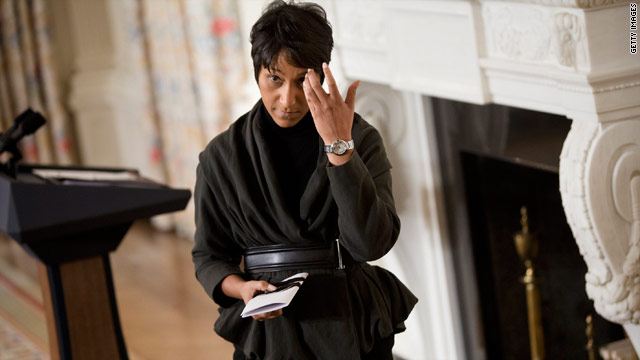 STORY HIGHLIGHTS
House committee holds hearing on White House party crashers
White House Social Secretary Desiree Rogers will not testify
She declined the committee's invitation to talk on constitutional grounds
GOP congressman: "This is not a separation of powers issue"
Washington (CNN) -- The White House is being accused stonewalling as Congress investigates the party-crasher security breach at President Obama's first state dinner last week.
At issue: Whether the White House is protecting Social Secretary Desiree Rogers from testifying about how Tareq and Michaele Salahi were able to crash the first White House state dinner. The couple did not have an invite but were allowed in.
Rogers' office planned the dinner.
Members of Congress put pressure on Secret Service Director Mark Sullivan Friday for the grate crashing fiasco. Sullivan said his agency will take the heat for the incident.
"This is our fault and our fault alone," he said. "There's no other people to blame here. ... Look at me and blame me," he told the House Homeland Security Committee.
Lawmakers praised his candor, but bluntly declared that Rogers should be facing tough questions too.

Video: Salahis no-show at hearing

Video: WH protects social secretary

Video: Gibbs gets testy
"We always expect the Secret Service to take a bullet for the president. We don't expect the Secret service to take a bullet for the president's staff," said Rep. Charles Dent, R-Pennsylvania.
Specifically, Republicans want to know why Rogers broke with past practice by not having one of her aides standing at the front gate to check names for the state dinner.
But like the Salahis, who did not show up for the hearing, Rogers declined the committee's invitation to talk on constitutional grounds
"Based on the separation of powers, staff here don't go to testify in front of Congress. ... She will not be testifying in front of Congress," said White House Press Secretary Robert Gibbs.
Republicans laughed off the notion the president might use executive privilege to protect an old pal from Chicago, Illinois.
"This is not a separation of powers issue," said Rep. Peter King, R-New York. "We are talking about an administrative decision to have people or not have people standing with the Secret Service and to change a policy of at least 20 years standing."
But the Obama White House is getting cover from an unlikely source: C. Boyden Gray, a former White House counsel in the first Bush administration.
Gray said that Rogers should be shielded.
"It's a pretty slippery slope to try to say well this person is a little bit more important than that person, this issue is a little more important than that issue," Gray said. "I think the safety of the president is a pretty important issue."
But King said flatly that if Rogers had a staffer at the gate, this could have been stopped. He's now pushing for Rogers to be subpoenaed and forced to testify.
The White House insists there's no evidence Rogers could have stopped the gate crashers.