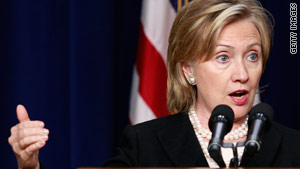 Hillary Clinton has been involved in intense diplomacy in the run-up to the president's speech, the State Department says.
STORY HIGHLIGHTS
State Department says it is tripling the number of civilian staff deployed to Afghanistan
White House says U.S. mission in Afghanistan will not be "nation-building"
Clinton supports having a special coordinator to work with Karzai government, source says
Washington (CNN) -- As President Obama prepared to explain his military strategy for Afghanistan Tuesday, his secretary of state said U.S. civilian efforts are just as critical to successfully getting Afghanistan back on its feet.
At the same time, a diplomatic source says the United States is pushing for an international "special coordinator" to work in parallel with the government of Afghan President Hamid Karzai.
Speaking Monday in New York to the Business Executives for National Security Gala, Secretary of State Hillary Clinton said Washington's "goals in Afghanistan include providing the government with the support that it needs to take full responsibility for its own country.
"That makes civilian efforts as vital as military operations and of longer duration," she said. "We have begun to elevate diplomacy and development alongside defense in our national security strategy, and we are certainly engaged in doing so in Afghanistan."
Clinton described the work of the State Department, USAID and other government agencies deployed in Afghanistan. She said experts from the U.S. Department of Agriculture are embedded with the U.S. military and "rule of law" experts are working to extend a system of justice "so that the Taliban would not offer the only form of justice in Afghanistan."
The State Department says it is tripling the number of civilian staff deployed to Afghanistan, and plans to have 974 staff members there by early 2010.

Video: Is Obama keeping war promises?
Despite the increased numbers of U.S. civilians expected to go to Afghanistan, and Obama's expected announcement that 30,000 more U.S. troops will deploy there, White House Press Secretary Robert Gibbs cautioned that the U.S. mission will not be "nation-building."
"As the president said, we can't be there forever. This can't be nation-building. This can't be open-ended," Gibbs told CNN Tuesday. "We have to help clear and hold areas that the Taliban control now, but we have to transfer that to a competent Afghan government that's addressed governance and corruption issues but also understand that they alone have the responsibility to provide their own security going forward."
Clinton, according to the State Department, has been involved in intense diplomacy in the run-up to the president's speech, speaking by phone with the foreign ministers of more than a dozen countries over the past week to outline Obama's strategy. But she appears to be encountering reluctance among some allies to ante up more support.
French Foreign Minister Bernard Kouchner was one of those contacted by Clinton, a European diplomat told CNN. In a conversation last Thursday, the diplomat said Kouchner told Clinton that France "will stay as long as needed" in Afghanistan but has no plans to send more than the 3,750 French troops currently there. The State Department refused to confirm that Clinton asked Kouchner for more troops.
Meanwhile, a senior U.S. official speaking on background according to State Department ground rules said Clinton supports the concept of an international special coordinator who would work with the Karzai government to strengthen it and avoid possibilities for corruption. The idea has been proposed informally by U.S. special representative on Afghanistan and Pakistan, Richard Holbrooke.
State Department spokesman Ian Kelly denied Tuesday that having a coordinator would be an attempt at an "end-run" around Karzai, whose government has been accused of mismanagement and corruption.
"It's a coordinating role," Kelly said. "It's about coordinating civilian developmental and other resources among international partners. This is about helping build the capacity of the Afghan government. It is not about by-passing."
"We are trying to better support the Afghan government. This is the main objective of having this civilian coordinator. And it will include a role for the U.N. as well," he added.
The European diplomat, speaking on background because of the sensitivity of the subject, agreed.
"He [Karzai] has a lot to deliver and we want to make sure he does," the diplomat said. "We want to help him."
Other ideas being proposed by Europeans include creating a "secretariat" of the government, an administrative service that would assure the functioning of the government, this official said. While there are many different ideas, there is no deadline for accepting them, the diplomat said. The hope is that proposals might be ready for discussion at the international conference on Afghanistan that will be held in London, England, on January 28, 2010.
Mark Schneider, senior vice president of the International Crisis Group, said Holbrooke appears to be basing his idea on the model adopted after the war in Bosnia, under which the office of High Representative had "enormous powers" to void legislation and fire corrupt officials.
The situation in Afghanistan is not the same, Schneider said, but the hope would be that Karzai would agree to have an international overseer to help the government deal with corruption, lack of effectiveness and the civilian side of the counter-insurgency effort.