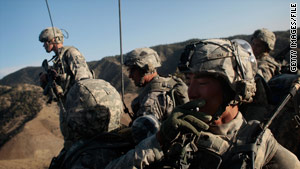 U.S. troops search for militants in the mountainous Taliban stronghold in Paktika Province in Afghanistan.
STORY HIGHLIGHTS
President Obama announces more troops will be sent to Afghanistan
Frequently asked questions about mission include where troops will come from
Other questions include cost, timetable, goals for deployment
Washington (CNN) -- President Obama announced Tuesday that he's sending about 30,000 additional troops to Afghanistan over the next six months.
Here are some frequently asked questions about the mission in Afghanistan:
Q: How many troops are in Afghanistan and how many more are going?
A: More than 100,000 U.S. and NATO troops are in Afghanistan. The additional 30,000 troops will bolster the already 68,000 U.S. troops positioned around the country in the east along the Pakistan border and in the south, where the fighting is the most fierce.
NATO is expected to add around 6,000 additional troops. When they all arrive, the total international force is expected to be almost 150,000, close to the number of U.S. troops in Iraq after the 2007 surge. The first wave of additional U.S. troops is expected to begin deploying to the southern part of the country in Kandahar and Helmand provinces, according to military sources.
Q: Can the U.S. get 30,000 troops into Afghanistan in six months?
A: Adm. Mike Mullen, chairman of the Joint Chiefs of Staff, told a Senate hearing on Wednesday that getting troops and equipment into Afghanistan is harder than Iraq, but the first troops have already been given orders.
"The first troops will be there in a couple weeks and are already under orders since the president made his announcement last night," Mullen said. "A significant number of them to arrive in the spring, March, April, time frame, and roughly 20 to 25 thousand by the July timeframe. And that is getting them in, getting them prepared and obviously getting them on mission."
Mullen said the remaining 5,000 will be there by the end of the summer or early fall.
Chris Lawrence, CNN pentagon correspondent just returned from Afghanistan where troops told him the April 2009 surge did not go well.
"Logistically, we weren't prepared for this surge," said Army Spc. Luke Adler, who told Lawrence that supplies arrived months after his unit did. "But problem is, it's getting there a little bit after the troop surge, when it should have been vice-versa -- should have been support first, or at the same time at least."
Q: Where will the troops come from?
A: The first to go will be 1,000 Marines from Camp Lejeune, North Carolina, and they'll start deploying at the end of December.
The military has been looking at which units will be available to meet the 30,000-troop requirement and will likely be sending troops from these units: three U.S. Army brigades, totaling about 15,000 troops, from Fort Bragg, North Carolina, Fort Campbell, Kentucky, and Fort Drum, New York; a Marine brigade with about 8,000 troops from Camp Lejeune; a headquarters element of about 7,000 to oversee all of the new troops; and between 4,000 and 5,000 support troops, many of which will be put to work bolstering the Afghan security force training program.
Q: What will troops be doing?
A: If you boil down the president's new Afghan strategy, it comes down to two basic parts: beating back the Taliban, and training the Afghan security forces to a competent level so they can take over the security of their country. In order to turn over the country to the Afghans, the U.S. must first stabilize the country to a level where a fledgling security force can be given the chance to prosper.
The U.S. will put many of the 30,000 new troops into the south as the primary effort. Helmand and Kandahar provinces are the two hot spots there, where the Taliban all but controls large swaths of that region and where U.S., Canadian and British troops have been badly bloodied in fighting.
The other priority will be the east, where the porous border with Pakistan continues to be a major supply line for anti-coalition fighters and weapons into Afghanistan and allows other fighters to escape into the protection of the ungoverned tribal areas of Pakistan.
As the surge of new troops start coming in between the end of December and next fall, the U.S. and NATO forces will simultaneously ramp up the training of Afghan security forces, dedicating thousands of soldiers and Marines to the training effort.
In addition to traditional training of forces made up of classroom and field exercises, the U.S. is putting renewed emphasis on what the military calls "embedded partnering," where U.S. troops live, work and sleep alongside their Afghan pupils once they graduate from basic training. This style of training allows U.S. forces to see firsthand how Afghan troops are putting their newly learned skills into action as well as to build their confidence and guide them if they are slipping in some areas.
The technique also allows the U.S. mentors to offer "after-action" reports directly to the Afghan troops when they return from patrols or combat missions.
The U.S. military will also put a priority on integrating Afghan Army forces into U.S. units, something they see as the best on-the-job training they can get. The ultimate goal is to eventually have all U.S. combat units work jointly with Afghan National Army units on patrols and combat missions.
The U.S. will also be pushing an Afghan-led program to better communicate and work more closely with tribal militias. Tribal militias have been notoriously fickle, changing sides as the needs suit them.
One key program is called the Community Defense Initiative, almost a neighborhood watch-like program that will try to get rural communities to take their loosely tied groups responsible for a village or town's security and build a relationship with the Afghan forces to root out Taliban in that area. In response, the U.S. and Afghan governments will fund projects to aid and develop those particular communities.
Q: Why is "partnering" with the Afghan military so important?
A: Eventually, the mission of securing Afghanistan will fall to Afghan soldiers, so it's important to get them ready as soon as possible.
McChrystal explained it this way on Wednesday during a briefing in Afghanistan: "President Obama's speech is clearly a demonstration of commitment. 'Embedded partnering' ... is a demonstration of commitment.
"There's a saying that the Germans use ... 'feel of the cloth.' And it came from a time when soldiers fought in tight formations and the shoulder rubbed up against the shoulder next to them, and from the feel of the cloth they got confidence because they knew they weren't alone. From the feel of the cloth they knew they were part of the team.
"What we are trying to do with embedded partnering is to provide that same confidence. The feel of the cloth of partners who are committed to each other and committed to a single cause."
Q: How did the administration come up with the target date of July 2011 to begin withdrawing troops?
A: The administration believes that given the resources -- more than 30,000 extra U.S. and NATO troops to fight and train -- the handoff of some territory is possible.
"We will be in a position, particularly in uncontested areas, where we will be able to begin that transition in July 2011," Defense Secretary Robert Gates told the Senate Armed Services Committee.
The administration also believes a date has to be set, as Secretary of State Hillary Clinton told the committee -- that it sends a signal to the Afghan government that this is not an endless transition. But neither is the United States "locked" into leaving, said Clinton.
"The United States is not interested in occupying Afghan, we are not interested in running their country, building their nation. We are trying to give them the space and time to be able to build up sufficient forces to defend themselves," Clinton said. "By July 2011, there can be the beginning of a responsible transition that will of course be based on conditions."
The July 2011 date was created after an "intensive look at this from the operational military perspective, intel perspective, political development perspective -- so it's not an arbitrary date and carefully chosen and it reflects the reality of the situation on the ground," said David Sedney, the deputy assistant secretary of defense for Central Asia in an interview with CNN.
Sedney said there will be a comprehensive review in December 2010 so they will not be "blindly going in any direction." The review could mean the United States "can start transferring lead security before the summer of 2011." But he added, "It's possible things may not go the way we want and that's when we reevaluate and see if we have to make any changes."
Q: How much will it cost to send the additional U.S. troops?
A: The White House estimates that it costs about $1 million per year to send just one soldier or Marine to Afghanistan. That figure includes the cost of the equipment, fuel, food, housing, combat pay, ammunition and other miscellaneous costs.
If Obama authorizes 30,000 more troops, that would add $30 billion to the cost of the war. The Department of Defense has already budgeted an $18 billion increase in 2010 for the war in Afghanistan, projecting a budget of $65 billion, so some of the troop increase may already be accounted for.
Lawrence Korb, a defense analyst at the Center for American Progress, points out that even if the 30,000 troops were to remain in the United States, they have to be paid, fed, housed and trained, so the Department of Defense is spending money on these troops regardless of whether they are deployed.
The cost will also be offset by the anticipated reduction of troops in Iraq, which is expected to be cut from more than 100,000 troops to 50,000 by the end of next year.
Q: Who is helping the United States in Afghanistan?
A: More than 40 other nations have troops serving in Afghanistan. Great Britain has about 9,000 troops there, and British Prime Minister Gordon Brown has promised to send 500 more. Germany has 4,300 troops, and France has more than 3,000. Canada has 2,800. The United States has lost 849 troops in Afghanistan since the start of the war; 236 British troops have died; and Canada has lost 133 troops since 2003.
Q: What challenges do these troops face in Afghanistan?
A: U.S. troops face a variety of challenges in Afghanistan.
The country is much less developed than Iraq. There are few paved roads outside the largest cities. The unpaved roads are easy places for the Taliban to place for roadside bombs, known as IEDs (improvised explosive devices).
The main way to move troops and supplies around the country is by helicopter, which can slow down movements until choppers become available. Also, the highest mountains in Afghanistan's eastern region are more than 20,000 feet. U.S. helicopters can't fly that high, making it difficult to get to the Taliban fighters hiding in the mountain caves.
The weather can take dramatic swings. Temperatures can dip to -10 degrees Fahrenheit in the winter and soar above 110 degrees in the summer. Summer also brings choking sandstorms.
Perhaps the biggest challenge is Afghanistan's location. It is landlocked, and there are no navigable waterways leading to the ocean. Everything that troops need -- food, water, fuel, vehicles and ammunition -- must be flown in or shipped to Pakistan and driven over roads, often through Taliban-controlled areas. Convoys carrying these supplies have been attacked.