Official in charge of closing Gitmo quits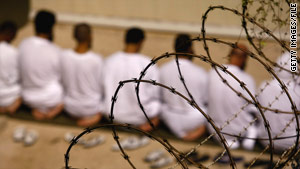 Detainees at the Guantanamo Bay detention center kneel during a prayer on October 28.
STORY HIGHLIGHTS
Phillip Carter submitted a resignation letter Friday, Pentagon spokesman says
Decision prompted by personal and family reasons, spokesman says
Carter, a lawyer and Army veteran, took position in April
Obama administration: Detention center's closure unlikely to happen by January deadline
Washington (CNN) -- The official in charge of closing the Guantanamo Bay, Cuba, detention center has resigned, the Pentagon said Wednesday.
Phillip Carter submitted his resignation letter Friday after just under seven months in the post, Pentagon spokesman Geoff Morrell said.
Carter's move was prompted by personal and family reasons, Morrell said.
The Obama administration has vowed to close the Guantanamo facility, but acknowledges it is unlikely to happen by its self-imposed deadline of January 22.
About 215 men are held there. They include alleged 9/11 mastermind Khalid Sheikh Mohammed, who, officials said on November 13, will be transferred to New York to go on trial in civilian court.
Carter, a lawyer and Army veteran, joined the administration April 27 after writing briefs in two key Supreme Court cases related to detainee policy.
His title was deputy assistant secretary of defense for detainee policy.
CNN Pentagon Producer Mike Mount contributed to this report.