What has Sarah Palin set her sights on now?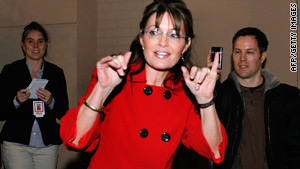 Sarah Palin has begun a cross-country book tour.
STORY HIGHLIGHTS
Sarah Palin is back in public eye with autobiography to promote
Mann: Palin's career has moved so quickly she may have a new role in mind
Mann: If wants to be the Republicans' presidential candidate, her timing is terrific
(CNN) -- She's back! In fact, Sarah Palin, the former Alaska governor who became a sassy sudden superstar when she ran for the U.S. vice-presidency last year, is on a whole new campaign.
Palin has written an autobiography, begun a cross-country book tour and secured a spot on virtually every newsstand and TV set in sight. The question is why?
"My ambition, if you will, my desire, is to help our country in whatever role that may be, and I cannot predict what that will be," she told interviewer Barbara Walters.
Palin's political career has moved so quickly that it's easy to imagine that she has a particular role in mind.
Mayor at 32, state governor at 42, and then a national candidate at 44, Palin is a working mother of five children who doesn't waste time.
She resigned as governor four months ago and some people say the next step is obvious.
"If you want to be vice president, by extension, you want to be president," said James Carville, a Democratic Party strategist and CNN analyst.
Her timing is terrific. Right now, the Republican Party doesn't have a real leader or a clear direction, except its strong opposition to president Barack Obama.
The president's popularity is sagging under the weight on two wars, 10-percent unemployment and a polarizing fight to overhaul America's healthcare system.
Republicans are looking ahead to Congressional elections next year and then, the start of another long presidential campaign season a year later.
If she decides to return to active politics, Palin will be buoyed by the many voters who adore her homespun style and conservative policies.
She'll be weighed down by widespread doubts: seven out of 10 Americans think she's not qualified for to be president, according to a new CNN Opinion Research poll.
So she's traveling the country selling books, meeting voters and raising her profile.
No one really knows if Palin's is going to run for the presidency in 2012, but just about everyone in America is watching.