Sweeping Pentagon review expected in wake of Fort Hood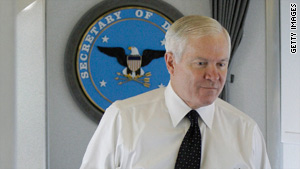 Secretary of Defense Robert Gates is expected to make an announcement of a major military review.
STORY HIGHLIGHTS
Secretary of Defense Robert Gates expected to announce review of military procedures
Senior Pentagon official says Gates is still working though final details
Review could look at policies about weapons being brought onto bases
Another focus could be on sharing of information about potentially troubled personnel
Washington (CNN) -- Secretary of Defense Robert Gates is expected to announce a sweeping review of military procedures and policies that could help avoid another Fort Hood-type incident, a senior Pentagon official has confirmed to CNN.
The official emphasized the secretary is still working though final details of how the review will be structured, and the announcement could still be delayed. The official said former military and civilian leaders officials could be called in to lead the review.
The Pentagon has been struggling for several days over how to shape the scope of the review, which will look at "systems and processes," such as whether there strict enough policies on weapons being brought onto military bases.
Another focus of the review would look at situations in which adverse information is learned about a military person, and whether there are adequate procedures for sharing that information with those who kneed to know it.
This is expected to be a broad Department of Defense review that Gates will announce, and the official said "there will be many components to it," adding that the Army's so-called "hard look" at itself in the wake of the Fort Hood shootings is expected to be part of the overall review.
It is expected that there will be some sort of a short-term deadline, the official said, noting that Gates wants some immediate feedback as well as a longer-term review.
The official asked not to be named because the announcement had not been made.
Maj. Nidal Malik Hasan has been accused in the deaths of 13 people during a shooting rampage at Fort Hood, Texas, on November 5.


Part of complete coverage on

A key congressional panel opened its probe into the Fort Hood shootings with a pledge to find out if authorities could have prevented the attack.

Military victims of the Fort Hood massacre could receive the Purple Heart if Congress passes a bill introduced by a Texas representative.

Maj. Nidal Hasan has been charged with 13 preliminary counts of premeditated murder stemming from the Fort Hood shootings, the Army said.

President Obama led a memorial service for the 13 people killed in the massacre at the largest military installation in the U.S.

The Fort Hood suspect urged in 2007 that Muslims in the Army be allowed to claim "conscientious objector" status, an official said.
Pvt. Joseph Foster was filling out routine paperwork when he heard a shout quickly followed by a burst of gunfire from just a few feet away.

Investigators believe the Fort Hood suspect acted alone, but U.S. intelligence agencies flagged his communications in 2008, the FBI said.

Members of Michael Cahill's family said they know had he not been killed, he would have been trying to save the lives of the wounded.


Most popular stories right now