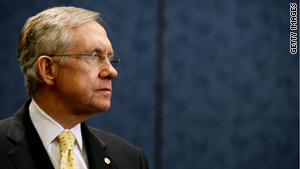 Sen. Harry Reid accused Republicans of trying to dodge a full Senate debate on health care.
STORY HIGHLIGHTS
Majority leader still waiting on Congressional Budget Office estimate
He accused Republicans of trying to rob Americans of opportunity
Minority leader expects vote to open debate Friday
Washington (CNN) -- The Senate's top Democrat declined Tuesday to say when he would introduce a hotly anticipated health care reform bill.
Senate Majority Leader Harry Reid, D-Nevada, said he was waiting for a cost estimate of the legislation from the nonpartisan Congressional Budget Office.
"We're going to be hearing from CBO very soon," he promised on Capitol Hill. CBO's estimate won't be completed until at least Wednesday, a senior Democratic source said.
Reid accused Republicans, who have promised a filibuster, of trying to dodge a full Senate debate and rob "the American people of a historic opportunity."
Sixty votes in the 100-member Senate are required to overcome a filibuster and open Senate debate on the bill. Democratic leadership sources said a Saturday vote to start debate is likely. It remains unclear, however, whether the Democrats now have enough votes.
Sen. Mary Landrieu, D-Louisiana, said Tuesday that she is leaning against voting to start the debate. Other Democrats from more conservative states, such as Arkansas' Blanche Lincoln and Nebraska's Ben Nelson, have refused to say whether they'll back a vote starting debate until they have a chance to read the CBO-scored bill.
Democratic leaders will need the support of all 58 Senate Democrats, along with independent Sens. Bernie Sanders of Vermont and Joe Lieberman of Connecticut, if Republicans stay unified in opposition.
GOP leaders expressed fears Tuesday that the Democrats would try to spring the measure on the Senate with little warning to deny Republicans a chance to adequately review it before starting debate.
Senate Minority Leader Mitch McConnell, R-Kentucky, said he expects a vote to open debate on the measure will come Friday. He pledged that Republicans would continue to strongly oppose a bill that they say will result in tax and premium increases while doing little to rein in spiraling medical costs.
McConnell said he is "perplexed at the Democrats' intent to ... go forward with this in spite of the fact the public obviously opposes it."
In a CNN/Opinion Research Corp. poll released Tuesday, 46 percent of the respondents said they favored the version of the bill passed by the House, while 49 percent opposed it. The survey's sampling error was plus or minus 3 percentage points.
Reid has spent the past several weeks melding bills passed by two Senate committees. The version passed by the House -- by a narrow 220-215 vote -- was crafted by Democratic leaders who merged legislation from three House committees.
The House measure is projected to cost more than $1 trillion over the next 10 years.
If the Senate manages to pass a bill, a congressional conference committee would need to merge the House and Senate proposals into a consensus version requiring final approval from each chamber before moving to President Obama's desk to be signed into law.
Democratic leaders in both chambers have been wrestling with a series of controversial issues tied to health care reform, including abortion and immigration. They're also at odds over how to pay for reform.
They have, however, reached agreement on a broad range of changes that could impact every American's coverage.
Among other things, they've agreed to subsidize insurance for a family of four making up to roughly $88,000 annually, or 400 percent of the federal poverty level.
They've also agreed to expand Medicaid and create health insurance exchanges to make it easier for small businesses, the self-employed and the unemployed to pool resources and purchase less expensive coverage.
They also would limit total out-of-pocket expenses and prevent insurance companies from denying coverage for pre-existing conditions.
Insurers under the Democratic plans would be barred from charging higher premiums based on a person's gender or medical history.
CNN's Dana Bash contributed to this report.