Obama strays into abortion crossfire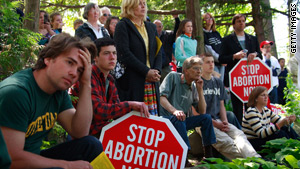 Barack Obama's heathcare reform plans have brought the abortion debate back to the forefront of U.S. politics.
STORY HIGHLIGHTS
Health reform has major implications for abortion debate in the U.S.
Abortion opponents remain a powerful force in U.S. politics
Obama aiming to achieve a compromise on subject divisive for decades
(CNN) -- U.S. President Barack Obama probably never intended to do it, but his push for healthcare reform has reopened debate on one of America's most polarizing issues -- abortion.
"This is a healthcare bill, not an abortion bill," Obama told ABC News Monday. But that aspect of the healthcare overhaul is dividing his Democratic party and may threaten the entire effort.
It has been 36 years since the U.S. Supreme Court upheld every American woman's right to end a pregnancy.
Even after all that time, Americans are split on the subject. The latest poll by the Pew Research Center found that 46 percent think abortion should be legal in most or all cases, while 44 percent say it should be illegal.
Abortion opponents are a powerful force in U.S. politics. On the fringes of American life, the most extreme of them are a continuing threat: an anti-abortion activist named Scott Roeder is awaiting trial for murdering abortion provider George Tiller while he was at church in Wichita, Kansas, in May this year.
Even within the Democratic party, the traditional home of pro-choice voters, many lawmakers refuse to support government subsidies for abortion and they have been banned for decades.
So, what will happen if Obama gets his overhaul and Washington subsidizes medical care for many Americans?
The latest proposal would maintain the current ban -- and possibly even extend it to the millions of women who get their health insurance privately.
Conservatives are adamantly in favor of it, feminists are furious and centrist Democratic lawmakers are caught in the middle.
What does the president want?
On the one hand, he said in the interview with ABC News, "we're not looking to change what is a core principle that has been in place for a very long time, which is federal dollars are not used to subsidize abortions."
But on the other hand, he said, we want to make sure that we're not restricting women's insurance choices.
So he's calling for compromise, the one thing that a generation of Americans who support abortion or ardently oppose it, haven't achieved so far.