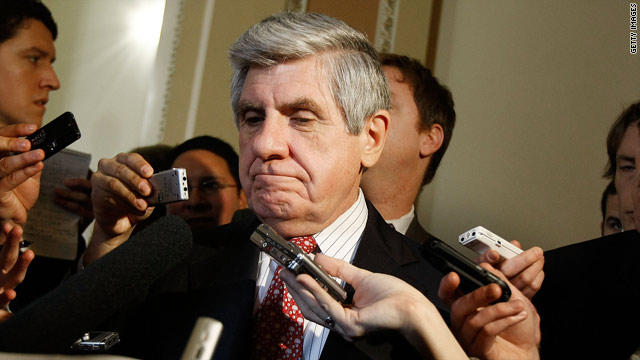 STORY HIGHLIGHTS
Democrats can afford no defections in bringing health care bill to Senate floor
Sen. Ben Nelson, D-Nebraska, opposes a government-sponsored public option
He has been targeted by liberal groups and Republicans on the issue
One poll shows that Nebraskans are split on support for the public option
Washington (CNN) -- Sixty. It's the magic number of votes Senate Majority Leader Harry Reid needs to move his health care reform bill to the Senate floor and tamp down filibuster threats by Republicans.
And the 60th vote could well be Sen. Ben Nelson, D-Nebraska.
Nelson and other Democrats have spoken out against the costs of plans being discussed, and most recently the $1.1 trillion House bill, which passed last weekend.
Reid doesn't expect Republican support for the bill, so he'll need all of the 58 Democrats and the two independents who caucus with them.
Nelson, 68, recently said he would decide how to vote on whether to send the bill to the Senate floor once he sees the final version.
"I'm not going to make any kind of commitment until I see the bill," Nelson said, adding that he has not given Reid any assurance or "secret" acknowledgment of support.
"I can't decide about the procedural vote until I see the underlying bill," he told CNN.
Nelson told ABC News on Tuesday that faced with a decision on whether to "move a bill that is bad, I won't vote to move it."

Video: What if health care reform fails?
Senate leadership sources say Democrats have been down this road with Nelson before, and believe he can be swayed.
Nelson, who was elected to the Senate in 2000, touts himself as truly bipartisan -- and he has a record of working across the aisle.
In 2005, he was a member of the bipartisan group of senators known as "The Gang of 14" that together broke a long stall in the Senate over judicial nominations. Then in 2008, he became a part of "The Gang of 10" -- a bipartisan group that reached an agreement to breaking a deadlock in the Senate over energy legislation.
Reid's bill includes a public-option plan in which states could elect to opt out.
Nelson, though, is adamant that a public option is not the solution.
"While some have called for establishing a public plan, I believe we cannot effectively resolve our health care crisis if Congress becomes weighted down by creating a government-run option to attract Americans away from their private coverage, with little more to offer than cosmetic improvements and the creation of an unlevel playing field," Nelson wrote on his Senate Web site.
Nelson served two terms as governor of Nebraska before his election to the Senate. He received 74 percent of the vote in his re-election campaign in 1994, a year in which Republicans swept into control of Congress, according to his biography on the Web site.
I'm not going to make any kind of commitment until I see the bill
--Sen. Ben Nelson
In his first Senate race, Nelson narrowly beat Republican Don Stenberg, winning 51 percent of the vote, but he won over two-thirds of Nebraska's electorate in his 2006 re-election.
A native of McCook, a southwest Nebraska town that has been home to two of state's U.S. senators and three governors, Nelson was a lay minister to rural congregations during his studies at the University of Nebraska-Lincoln before attending law school.
"As a proud grandfather, Nelson enjoys spending time with his family, reading, hunting, fishing, and the whole of outdoor life," according to his Web site.
While Nelson's views sit well with traditionally Republican Nebraska, they don't with liberal Democrats.
He has been the target of several negative ads by liberal groups such as Democracy for America and the Progressive Change Campaign Committee, which has blasted his views against the public option.
The two groups sponsored a TV aid that aired in Nebraska. In it, a man identified as a voter offers a direct message to his senator: "Now I hear that Ben Nelson, the senator I voted for, is leading the charge to delay ... I have to ask, Senator, who's side are you on? If you're on my side, stay at work -- my family can't wait for reform."
Part of the concern is over money he received from insurance lobbies and his past career.
He served as CEO of the Central National Insurance Group, as chief of staff and executive vice president of the National Association of Insurance Commissioners, and as director of the Nebraska Department of Insurance.
Nelson hasn't been targeted just by liberals.
In an ad paid for by the Republican National Committee, Nelson is portrayed as a flip-flopper on health care.
"They want Sen. Nelson to tell voters in Nebraska, 'I voted for government-run health care for my party boss before I voted against it to save my job,' the narrator in the ad said. "Americans don't respect politicians that try to have it both ways. ... Senator Nelson, tell Harry Reid, Nebraskans know a flip-flopper when they see one."