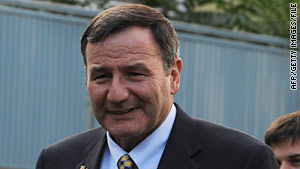 U.S. ambassador to Afghanistan Karl Eikenberry reportedly raised concerns about increasing U.S. troops there.
STORY HIGHLIGHTS
State Department says what ambassador tells president is confidential
Hamid Karzai aides question U.S. ambassador's advice to Obama
Ambassador reportedly warns Obama against sending more troops to Afghanistan
Ambassador has expressed concerns about Karzai government in past
Kabul, Afghanistan (CNN) -- Afghan President Hamid Karzai's office contacted the U.S. ambassador to Afghanistan about reports the ambassador warned against sending more U.S. troops to the country, a Karzai spokesman told CNN Thursday.
Two U.S. officials confirmed to CNN that Ambassador Karl Eikenberry sent two cables to Washington expressing reservations about troop increases amid uncertainty over Karzai's government.
One official, who spoke on condition of not being identified because of the sensitive nature of the cables, said the two communications "expressed concern and reservations about troop increases in Afghanistan" until more is known about Karzai's government after his recent re-election.
Separately, a senior U.S. official also confirmed the existence of two Eikenberry classified cables. The official said Eikenberry expressed reservations about troop increases because of lingering concerns about Karzai and uncertainties about the government he is going to put in place. The second official also asked not to be identified because of the sensitive nature of the cables.
In Kabul, Eikenberry's office would not confirm to Karzai's office the reports about the cables, Karzai spokesman Seyemic Herawi said. Herawi said Karzai will not comment on the reports without more information from the U.S. Embassy. Should more troops be sent to Afghanistan? Share your thoughts

Video: Afghan sticking points

Video: Concerns over Karzai govt.

Video: Driving through bomb country
Eikenberry previously expressed worry about corruption in Karzai's government and its ability to partner with the United States to fight the Taliban.
A senior State Department official told CNN that President Obama's administration has questions about Karzai's behavior, suggesting it has been inconsistent.
Asked for an official response on reports of the cables, the U.S. Embassy in Kabul said it does not comment on private messages, but did confirm that there had been correspondence between Eikenberry and the president.
In Washington, State Department spokesman Ian Kelly declined to comment Thursday on Eikenberry's communications.
"We are not going to get into the details of this kind of advice," Kelly said.
"This is a privileged channel of communication. They have the right to receive this advice in a confidential way," Kelly said.
"Ambassador Eikenberry has been providing this kind of advice and analysis to the president and secretary since he arrived," he said. "The president really deserves the right to be able to gather all of this information from all of the different principals, people involved in the shaping of this policy."
Earlier, White House spokesman Tommy Vietor said, "We won't discuss classified documents publicly, but, as we have said for months, success in Afghanistan depends on having a true partner in the Afghan government."
Initial reports of cables sent by Eikenberry appeared in The New York Times, Washington Post and Los Angeles Times. All three newspapers attributed the reports to senior U.S. officials, without identifying them.
The developments came as Obama told his war council Wednesday that the U.S. troop commitment to Afghanistan is not open-ended, and then asked for revisions to options he previously received for sending more troops, a senior administration official told CNN.
The war council -- comprising top Cabinet, Pentagon and administration officials -- met with Obama for the eighth time to discuss a request by the top U.S. commander in Afghanistan for up to 40,000 more troops. The meeting lasted more than two hours, according to the senior administration official.
"The president and his team discussed the length of time that it would take to implement the options he's been presented," the senior official said. "The president believes that we need to make clear to the Afghan government that our commitment is not open-ended. After years of substantial investments by the American people, governance in Afghanistan must improve in a reasonable period of time to ensure a successful transition to our Afghan partner."
In particular, Obama pushed for revisions in proposed plans for troop increases to clarify how and when U.S. troops would turn over responsibility to the Afghan government, the official said.
Earlier, a senior administration official and a U.S. military official independently told CNN that one option presented to Obama calls for sending about 34,000 more U.S. troops to Afghanistan, in addition to the 68,000 already committed to the country.
Success in Afghanistan depends on having a true partner in the Afghan government.
--White House spokesman Tommy Vietor
The military official said the plan would send three U.S. Army brigades, totaling about 15,000 troops; a Marine brigade of about 8,000 troops; a headquarters element of about 7,000 troops; and 4,000 to 5,000 support troops. The combat brigades would be brought in gradually, in three-month intervals, according to the military official.
The troops would be spread across the country, mainly focusing in the south and southeast, where much of the fighting is, according to the military official. The option has been a favorite at the Pentagon in recent weeks, the official added.
That is only one option, the senior administration official emphasized. Three other options, the official said, would be "different mixes," or "different components of it."
Despite reports to the contrary, Obama has not decided the number of U.S. troops he will send to Afghanistan, White House officials said.
Such reports are "absolutely false," Press Secretary Robert Gibbs said. And anyone who suggests otherwise, "doesn't have, in all honesty, the slightest idea what they're talking about."
Republican members of the Senate Armed Services Committee urged Obama in a letter sent Wednesday -- Veterans Day -- to agree to the request for additional troops by U.S. military leaders in Afghanistan.
The letter, signed by 10 Republican committee members, said success in Afghanistan will require enabling local leaders to govern and secure their country without substantial international assistance.
CNN 's Barbara Starr, Elise Labott, Suzanne Malveaux, Mike Mount, Chris Lawrence and Tom Cohen contributed to this report.