CNN's John King to replace Lou Dobbs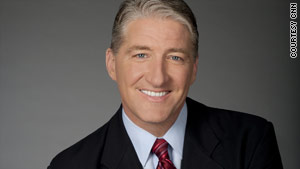 CNN's John King will replace Lou Dobbs in the network's 7 p.m. ET hour.
STORY HIGHLIGHTS
CNN's John King will host political show replacing Lou Dobbs

King, "thrilled to have the opportunity," will start show early next year

CNN President Klein says show will offer "straight facts," "widest range of opinions"

Dobbs says he's leaving to play a more activist role on key issues
(CNN) -- A new weekday political program hosted by CNN correspondent John King will replace Lou Dobbs, who announced his departure from the network on his show Wednesday night.
The network announced the new 7 p.m. ET time slot for King on Thursday, noting that the hour of political coverage will launch as the 2010 midterm elections approach.
"I'm thrilled to have the opportunity, at this busy and consequential time, to have a platform to discuss and explore the big issues of our time," King, chief national correspondent and anchor of the network's Sunday program "State of the Union," said in a statement released Thursday.
King is expected to move into the time slot early next year.
CNN did not announce the name of King's new program and in the statement said he would "continue to anchor 'State of the Union' until early next year."
Dobbs, 64, was the last of the 29-year-old CNN's original anchors still with the network. He said Wednesday that he plans to seek a more activist role in the political arena.
"Over the past six months, it has become increasingly clear that strong winds of change have begun buffeting this country and affecting all of us," Dobbs said during his Wednesday broadcast. "And some leaders in media, politics and business have been urging me to go beyond the role here at CNN and to engage in constructive problem-solving as well as to contribute positively to a better understanding of the great issues of our day and to continue to do so in the most honest and direct language possible."

Video: Lou Dobbs to leave CNN
Dobbs said he had discussed the issue with CNN President Jonathan Klein, who had agreed to a release from his contract "that will enable me to pursue new opportunities."
His no-holds-barred, sometimes acerbic style brought him a loyal following, but also attracted controversy both to him and to the network, especially over the subject of illegal immigration.
In a written statement, Klein said King's program "will reflect what CNN is all about: straight facts from our anchors and the widest range of opinions from across the political spectrum."
"John has enthralled CNN viewers with his vast political knowledge, and he has spent the past year reporting from beyond the Beltway on pressing policy issues and the real people they impact," Klein said. "Every night, he'll share his passion and his insights about what is really going on in Washington and across America."