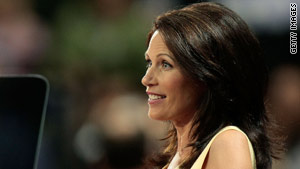 Rep. Michele Bachmann spoke during the Republican National Convention in 2008.
STORY HIGHLIGHTS
Michele Bachmann is a Republican hailing from Minnesota
She recently lead a rally to protest Democrats' health care plan
Bachmann's grabbed attention mainly for what she has said
Washington (CNN) -- The thousands of restive conservative protesters milling outside the west front of the Capitol last week definitely didn't seem in the mood to listen -- but there was at least one voice they wanted to hear.
The chant started from the back of the crowd, and rolled forward like a wave: "We want Michele! We want Michele!"
Michele Bachmann doesn't say she finds GOP leadership irrelevant. But with health care reform gathering momentum as the Democratic bill entered final debate in the House, she took her typical route around, not through them.
The swarms of Tea Partiers who descended on Washington on her week-old call didn't come to see John Boehner and Eric Cantor. The top Republican leaders in Congress were guests at Michele Bachmann's party.
"When we came down to this final hour, as the clock is ticking 11:59 on this health care reform, Speaker Pelosi is posed with her health care bill to take over 18 percent of the American economy," the Minnesota congresswoman said Thursday, drawing an angry roar from the audience set to swarm Democratic congressional offices on her instructions. Bachmann grinned. "Oh come on, don't hold back," she said. "Tell them how you really feel!"
In many ways, Michele Bachmann is the ideal political creature of the Tea Party era. Her path to power doesn't lie in moving up the GOP leadership ladder, but in ignoring it entirely, drawing her power more from cable TV hits than committee assignments.
And that power is growing: A University of Minnesota study released in August found she had already doubled her media appearances from the previous year. In 2008, when she was running for re-election, Bachmann hit the airwaves every 16.6 days, Minnesota researchers said. In 2009, that frequency had nearly doubled, to once every 9.1 days.
Nearly all of those appearances made news, featuring a supremely confident and combative Bachmann.
"If you look at FDR, LBJ, and Barack Obama, this is really the final leap to socialism," she said in March on CNN contributor Bill Bennett's national radio show. "The Democrats are about to institutionalize cartels -- that's what they're very good at -- they're trying to consolidate power, so we need to do everything we can to thwart them at every turn to make sure that they aren't able to, for all time, secure a power base that for all time can never be defeated."

Video: Concerned for the country

Video: Pollsters on health care, 2010
One summer pledge to battle health care reform generated even more media heat and liberal outrage. "What we have to do today is make a covenant, to slit our wrists, be blood brothers on this thing," she told Colorado conservatives in August. "This will not pass. We will do whatever it takes to make sure this doesn't pass."
Since Bachmann's arrival in Washington in 2007, she's grabbed attention not so much for what she's accomplished as for what she has said. Her statements are sometimes debatable, occasionally incendiary, always quotable. In October, she told conservative bloggers at the Heritage Foundation that she refused to "cower in fear," and worry about media chatter. "They're irrelevant," she said of mainstream journalists. "And I don't play by their rules."
Her target audience, and core constituency, is the outraged conservative voter who feels powerless in the Obama era. And they're listening.
"You've gone to the town hall meetings and been at the tea party rallies, only to be ignored by the Left," the congresswoman wrote in a fundraising message this fall. "Well, I've heard you loud and clear and you're saying: 'Enough is enough!' "
Her polarizing voice sounds like money -- to members of both political parties.
"Polarizing people are double-edged swords, and I think that on balance ... she's hurting the Republican Party," says veteran Democratic consultant Jennifer Palmieri.
Even Republicans concede Bachmann, 53, is playing a high-stakes game.
"If you're going to play that kind of role as a passionate person who, who goes out there and really says stuff, you better have pretty good instincts," says Tony Blankley, one-time press secretary to former House speaker Newt Gingrich. "Because if you have bad instincts, you're going to pay a price.
"But on the other hand," he adds, "nobody follows somebody who's just muttering."
Bachmann relishes her underdog status -- a fortunate trait, given her timing: She ran for a seat in a GOP-controlled Congress, but took office as part of the smallest Republican freshman class in six decades.
It wasn't the first time in Bachmann's life that her fortunes had shifted radically. When her parents divorced when she was in her teens, Bachmann suddenly found herself living with a single mother earning less than $5,000 a year. The emotional impact of that experience still shapes her fiercely independent approach.
"My mother is a wonderful woman," she said in a House floor speech on fiscal responsibility last spring, as she slammed the administration for its stimulus plan. "And she looks at what she has worked so hard to save for her whole life. She never had a high-paying job, but my mother was extremely frugal and extremely prudent, and taught me to be the same way."
If her mother and women like her could make do with less and spend within their means, Bachmann said, the U.S. government should be able to do the same.
When she entered Winona State College, Bachmann was a Democrat and along with her future husband, Marcus, even worked for Jimmy Carter's presidential campaign. But she grew disillusioned with the Carter presidency. Reading a tartly written Gore Vidal history book on a train ride back to school one year, something just clicked, she told the Minneapolis Star Tribune in an interview a few months into her first term.
"He was kind of mocking the Founding Fathers and I just thought, 'What a snot,' " she told the paper. "I just remember reading the book, putting it in my lap, looking out the window and thinking, 'You know what? I don't think I am a Democrat. I must be a Republican.' "
But she says she didn't see politics in her future. She headed off to study law at Oral Roberts University, and later at the College of William & Mary Law School. She married Marcus, worked as a tax attorney, and had five children of her own, along with a succession of 23 foster children.
Her entrance into politics came relatively suddenly -- she jumped into a state Senate race a decade ago over dissatisfaction with school regulations, and quickly became one of the most high-profile culture warriors in the Minnesota legislature, a leader in the fight against same-sex marriage.
That embrace of hot-button issues continued when she made her way to Washington. Name a controversial conservative cause of the Obama era, and she's been an icon to devotees: She's a core member of a group of Republican lawmakers who continue to push for government investigations into alleged Democratic ties to controversial community group ACORN. She's been a hero to "10thers," who believe the 10th Amendment of the Constitution rules out a major government role in health care reform; "Birthers," who question whether President Obama was born in the United States (though Bachmann -- who helped block a resolution affirming Hawaii as the president's birthplace -- recently told CNN's Larry King she has "no reason to doubt" he was born there); and "Deathers," who claim government cost-cutting under President Obama's health care plan would prevent older Americans from receiving necessary medical care.
While other Republican lawmakers have publicly struggled with the role of conservative voices like Sean Hannity, Rush Limbaugh and Glenn Beck -- offering mild criticism and backing away from their comments, serving up vague praise with conditional disclaimers -- Bachmann has embraced them wholeheartedly.
In Michele Bachmann's GOP, as in theirs, there is never cause for retreat, and no room for second-guessing.
"And thank God for Joe Wilson. Thank God for Joe Wilson," Bachmann, praising the South Carolina congressman's "huge heart," told a Tea Party gathering in her home state shortly after his "You lie!" outburst to Obama on the House floor.
Blankley, who attended a conservative conference with Bachmann earlier this year, says her star power is undeniable: "You could feel the energy rising when she came into the room." Bachmann's "lack of equivocation" on moral issues is bracing, says Blankley. "She brings some energy and cares what she's talking about. She's not going through the motions."