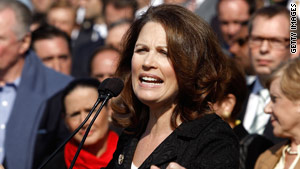 Rep. Michele Bachmann, R-Minnesota, leads a health care rally at the U.S. Capitol on November 5.
STORY HIGHLIGHTS
Michele Bachmann occupies familiar political niche: tough-talking conservative woman
More than most, Bachmann connects with disaffected conservatives via the Web
Outreach sparks speculation that she has sights on higher office
Dems are hopeful that her words will send many of her colleagues packing
(CNN) -- Much like former Alaska Gov. Sarah Palin, Rep. Michele Bachmann's name has become a kind of cultural shorthand -- a conservative rallying cry and a Jon Stewart punch line.
Both women have inspired a range of merchandise that includes mugs, T-shirts and even action figures. (The miniature Palin outsells Bachmann.)
Tina Fey's unforgettable "Saturday Night Live" impersonations of 2008 Republican vice presidential candidate Palin featured exact quotes or close paraphrases. And a recently launched line of Bachmann-inspired comic books features the congresswoman's own words as well.
Bachmann occupies an increasingly familiar political niche: the tough-talking, unapologetic conservative woman. The similarities with Palin go beyond a fiery brand of working-class cultural conservatism delivered in a homey twang. Each cut their teeth in culture war fights at the state level and has experienced a relatively recent meteoric ascent to the national stage.
Both are also mothers who've dealt with challenging family situations: the Palins with a special-needs child and the Bachmanns with the care of 23 foster children. And each presents an authentic comfort with religious conservatism that rings true to the faithful.
When the Oral Roberts University-educated Bachmann described herself as a "fool for Christ," she was using a familiar turn of phrase that identified her with a certain strain of evangelical thought, one that views Christians as a perpetually embattled minority adrift in a hostile culture.
And both, emerging in the era of a embattled GOP, would rather see the party pure than victorious. Bachmann and Palin refused to endorse their party-picked candidate in last week's special congressional race in New York, choosing instead to back the Conservative Party candidate.

Video: House gives Obama win

Video: Tea Party Express

Video: Republican rebound
Like Palin, Bachmann connects with disaffected conservatives primarily via the Web. There are few politicians as aware of their electronic presence, as conscious of the new tools of the Twitter age -- and as successful at using them -- as Bachmann.
In October, she launched an ambitious text-messaging system, which immediately drew fire from the Democratic National Committee, to blast mobile updates to supporters.
She was one of the vanguard of lawmakers to allow visitors to her congressional and campaign Web sites to connect with her, or "work as a virtual volunteer," via a list that includes nearly five dozen social networking tools and multimedia Web sites including Flickr, Facebook, Twitter, YouTube and Digg.
On her congressional site, supporters can sign up for tele-town halls, download podcasts and view clips of her in action on the House floor and cable television. They get feeds of her blog posts on the conservative Town Hall Web site and of her congressional blog (which was updated regularly over the August recess, when most representative's pages stayed frozen in time).
Many lawmakers have adopted some of these tools. Few have taken the comprehensive, across-the-board approach that Bachmann has -- and few can boast her level of support in the conservative blogosphere.
But where Palin has mostly limited herself to an electronic presence in advance of her book release this month, Bachmann has supplemented her Web efforts with stops at dozens of key conservative gatherings, including high-profile events such as the annual Conservative Political Action Conference and the Family Research Council's Values Voter Summit.
The overall scope of the outreach effort is unusual for a second-term member and has sparked speculation that Bachmann could be laying the foundation for higher office.
She's played up her rising star status, calling herself House Speaker Nancy Pelosi's top target and accusing Democrats of trying to "sabotage" her and Palin because "they want to make sure no women, no woman becomes president before a Democrat woman, and so they're doing everything they can to... make sure that we don't have a prominent national voice."
Bachmann's take-no-prisoners approach has made her a national target for opponents.
This spring, the Democratic Congressional Campaign Committee launched a Web site devoted to tracking her every headline-grabbing statement.
She's been featured in several Democratic and liberal third-party ad campaigns this year, including a recent DNC ad buy in her district for a spot claiming that the GOP wants to kill Medicare. Yet another ad that shows the controversial Bachmann alongside John Boehner and Eric Cantor, linking her to top Republican leadership.
She recently became the first Republican who doesn't hold a formal leadership post, or isn't considered a likely 2012 contender, to be targeted by the DNC as part of their "Call 'em Out" campaign, which attacks critics of the president's health care plan. The same week, a White House blog post blasted her by name.
And before she considers setting her sights higher, Bachmann will have to deal with challenges closer to home.
Minnesota's 6th congressional district is conservative -- it voted for John McCain over Barack Obama for the presidency by 8 points -- but Bachmann won her race last year by just 3 percentage points after one of her controversial statements put her seat at risk in the homestretch.
A year ago, as the campaign season wound down, the congresswoman went on MSNBC's "Hardball" and called on reporters to find out which members of Congress were "anti-America."
She later called the remark a "misstatement," but it was literally a million-dollar mistake: Her Democratic opponent saw his bottom line grow so fast after liberal blogs pounced on the comment that he didn't have time to spend it all before the race ended.
This summer, the National Republican Congressional Committee added Bachmann to its Patriot Program list of vulnerable incumbents who receive special assistance from the party.
Last month, 2008 Democratic nominee El Tinklenberg ended his bid to repeat his battle with Bachmann, reducing the prospect of a potentially bloody Democratic primary bout.
State Sen. Tarryl Clark and former Independence Party lieutenant governor candidate Maureen Reed remain in the race for the Democratic nod.
Clark, a union favorite who entered the race nine weeks before the end of the fundraising quarter, raised $308,015 in that time, compared with Bachmann's $345,000 for the quarter, and has just under $270,000 cash on hand. Reed raised more than $130,000 in the third quarter and has over $300,000 cash on hand.
Bachmann, by contrast, ended the quarter with no primary opponent and just under $617,000 cash on hand. And there are recent hints that a grass-roots army may be ready to reach into its pockets to keep her in Congress: A special Bachmann fundraising pitch to supporters this month, calling on them to "send the Left a message they cannot ignore," pulled in more than $100,000 in just more than a day.
But even if that support -- fueled by her rhetoric -- keeps her in Congress, Democrats are hopeful that her words will send many of her colleagues packing.