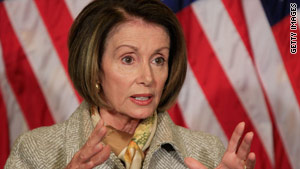 House Speaker Nancy Pelosi needs 218 votes for passage.
STORY HIGHLIGHTS
Some Democrats consulting with Catholic Bishops on bill's wording
House vote tentatively set for Saturday, may be pushed to Sunday
Conservatives raise questions about the overall cost of the bill
President Obama expected to visit Capitol Hill on Saturday
Washington (CNN) -- The issue of abortion threatened to derail House Democrats' health care bill Friday unless staunchly anti-abortion Democrats and the U.S. Conference of Catholic Bishops succeeded in their effort to get strict abortion limitations into the measure.
The hotly anticipated vote on the bill by the full House of Representatives may be delayed until Sunday, according to two Democratic sources, although the vote on the nearly $1.1 trillion bill is still planned for Saturday.
The sources blamed the potential postponement on GOP delaying tactics. Sharp differences among Democrats over abortion and immigration, however, have raised questions over whether Speaker Nancy Pelosi has the 218-vote majority needed for passage.
Now House leaders are not only negotiating with fellow lawmakers, but also with representatives from the bishops' organization, Democratic sources said.
"It's come to this," said one bewildered senior Democratic lawmaker, speaking on condition of anonymity in order to discuss internal deliberations.
Anti-abortion Rep. Brad Ellsworth, D-Indiana, came up with compromise language that he said accomplished the goal of preventing taxpayer money from being used for abortions. Democratic leaders agreed to it, but the U.S. Conference of Catholic Bishops wrote a memo saying it leaves loopholes that could allow federal funds to go toward abortions.
Pelosi and fellow Democratic leaders are working behind closed doors, scrambling to forge a compromise.
Several Democrats, including Rep. Jason Altmire, D-Pennsylvania, said they are in touch with their Catholic bishops back home. Altmire said he must have the approval of his bishop in Pittsburgh before he can vote yes.
Rep. Steve Driehaus, D-Ohio, said he's "trying to get to yes," but said he won't vote for the health care bill unless it says "no federal funds used to pay for abortions and so that means no federal funds used to pay for abortion in the public option."
Up to 40 anti-abortion Democrats, enough to strip Pelosi of the 218-vote majority needed to pass the bill, are reportedly dissatisfied with the bill's language.
In a stark illustration of Democratic leaders' bind on this issue, staunch abortion rights supporter Rep. Diana DeGette, D-Colorado, emerged from late night talks in Pelosi's office warning that she and others would vote no if leaders agree to ban abortion from the public option.
"I'm not going to live with that," she said.
"Here's the mistake people make. They think the public option is like public funding, but in truth the public option is funded with private money. So if you say a public option can't offer a legal medical procedure, what you are doing is greatly restricting a woman's right to choose, so the 'pro choice' caucus will not support that."
DeGette said that caucus includes 190 members, and its leaders met Friday and agreed not to support language banning abortion from the public option.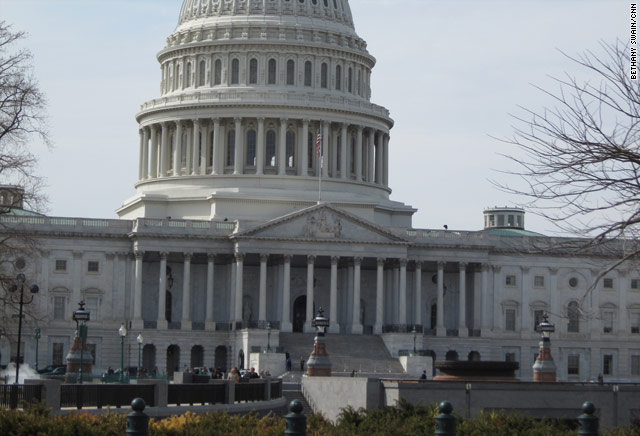 Key parts of the House health care bill
Abortion isn't the bill's only problem. In interviews with nearly 60 House Democrats considered swing votes on health care, CNN found that Pelosi and other leaders have little margin for error in trying to find 218 votes to pass a bill.
As of Friday night, as many as three dozen were still undecided and at least 21 Democrats have firmly decided to vote no.
If those 21 Democrats keep their pledges to vote no, party leaders can only afford to lose 19 more members of their caucus. Nearly twice that many were still on the fence just hours before Pelosi hopes to hold a vote.
Republican leaders added to the turmoil Friday morning, seizing on news of spiraling unemployment to warn that new taxes and regulations including in the sweeping reform measure would push the country into an economic abyss.
President Obama, meanwhile, prepared for a rare Saturday Capitol Hill visit to twist Democratic arms on what is considered by some to be a make-or-break issue for his young administration.
Members of the Congressional Hispanic Caucus staunchly oppose adding a provision to the bill that would bar undocumented workers from using their own money to buy health insurance policies available through the exchange.
The measure is included in the Senate Finance Committee's version of the bill, and is backed by the White House. Some conservative House Democrats have also indicated their support for the Senate language.
Several Hispanic Caucus members who discussed the issue with Pelosi on Friday said they had received assurances the Senate language would not be included. Rep. Charlie Gonzalez, D-Texas, warned Thursday that several caucus members might try to block the House bill if it's changed to conform to the Senate measure.
"I understand the politics of it, but it is very bad policy and I'd love, for once, the policy to trump the politics," he said.
Pelosi's bill includes various requirements for immigrants to verify their citizenship before getting federal subsidies to buy health insurance. Conservatives, however, have called the requirements insufficient.
Many conservatives, particularly on the Republican side of the aisle, also continued Friday to raise questions about the overall cost of the bill.
"The speaker's bill includes job-killing taxes and mandates that will hurt small businesses," House Minority Leader John Boehner said Friday. "For the sake of our families and small businesses, this job-killing bill needs to be defeated."
Shelley Moore Capito, R-West Virginia, blasted what she characterized as the Democrats' "job-killing, government-run rationing of health care." The bill would "make it far harder for the true engine of our economy, small business and entrepreneurs, to help grow us out of this recession," she argued.
Some so-called Blue Dog Democrats are among those who intend to vote no, including Rep. Stephanie Herseth Sandlin, D-South Dakota, and Rep. Frank Kratovil, D-Maryland.
"The overall cost of it is substantial," Kratovil said.
The House bill would extend insurance coverage to 36 million uncovered Americans and guarantee that 96 percent of Americans have coverage, according to the nonpartisan Congressional Budget Office.
Among other things, the health care bill would subsidize insurance for poorer Americans, establish a new government-run public option and create health insurance exchanges to make it easier for small groups and individuals to buy coverage. It would also cap annual out-of-pocket expenses and prevent insurance companies from denying coverage for pre-existing conditions.
Pelosi's office has said the bill would cut the federal deficit by roughly $30 billion over the next decade. The measure is financed through a combination of a tax surcharge on wealthy Americans and spending constraints in Medicare and Medicaid.
The bill received a major boost Thursday when it was endorsed by AARP and the American Medical Association.
AARP, the nation's largest organization of older Americans, is a nonpartisan group that advocates for people over age 50. The AMA, historically an opponent of health care reform, is considered one the nation's most influential doctors' advocacy groups.
CNN's Dana Bash, Lisa Desjardins, Alan Silverleib, Paul Steinhauser and Deirdre Walsh contributed to this report.