Clinton pushes for resumption of talks between Israel, Palestinians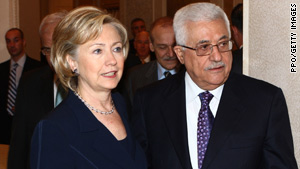 Secretary of State Clinton meets with Palestinian Authority President Mahmoud Abbas before flying to Israel for meetings.
STORY HIGHLIGHTS
Secretary of State Hillary Clinton wants to see talks begin "as soon as possible"
Palestinian Authority negotiator says talks stopped because of continued settlement building
Benjamin Netanyahu says Israel is willing to engage in peace talks without preconditions
President Obama has softened language on settlement "freeze," talks of "restraining" activity
Jerusalem (CNN) -- Secretary of State Hillary Clinton tried Saturday to revive peace talks between Israel and the Palestinian Authority, whose chief negotiator characterized the process as "stuck."
Clinton met with Palestinian Authority President Mahmoud Abbas in Abu Dhabi before flying to Israel for meetings with Israeli officials, including Prime Minister Benjamin Netanyahu.
"I want to see both sides begin [negotiations] as soon as possible," Clinton said Saturday at an evening news conference with Netanyahu. "The important thing ... is to get into the negotiations," she said.
"I gave the same message today when I met with President Abbas."
Saeb Erekat, the chief negotiator for the Palestinian Authority, told CNN on Saturday that Abbas emphasized to Clinton that talks have not resumed because the Israeli government has not lived up to what he called its obligations, which include halting settlement building in the occupied West Bank and in predominantly Palestinian East Jerusalem.
Erekat said that Abbas wants negotiations to pick up where they left off with former Prime Minister Ehud Olmert, and that the Israelis do not. That, Erekat said, is evidence that Netanyahu has "no interest" in continuing negotiations.
He characterized the process as "stuck" because of what he said was Netanyahu's lack of desire to restart negotiations.
At the news conference Saturday, however, Netanyahu said Israel did want to resume talks.
"The simple fact is this: We are willing to engage in peace talks immediately without preconditions," he said.
Clinton said the offer that the Israeli government is making on settlements is "unprecedented."
She said, "What the prime minister has offered, and in specifics on the restraint in the policy on settlements ... is unprecedented in the context of prior negotiations."
Earlier this year, the Obama administration called for the Israelis to halt building more housing on land the Palestinians regard as theirs.
However, after meeting with Netanyahu and Abbas in New York last month, President Obama softened his language on a settlement "freeze," saying that Israel has had meaningful discussions about "restraining" settlement activity.
Erekat said Clinton had told Abbas that the settlements were not legitimate but said the United States was unable to persuade Netanyahu's government to commit to an outright freeze.
Clinton flew Sunday from Israel to Morocco, where she will meet Arab leaders to try to push forward the Middle East peace process. Clinton is due to meet with Morocco's moderate King Mohammed VI, as well as foreign ministers from around the region, and is scheduled to deliver a speech on Tuesday.
CNN's Kevin Flower contributed to this report.