Comment: Was Obama playing Melody for harmony?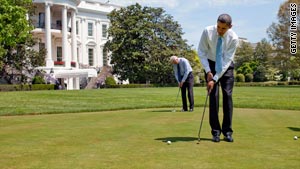 U.S. President Obama has made it to the links 24 times in his first 40 weeks in office.
STORY HIGHLIGHTS
U.S. President Obama enjoys a passion for golf and basketball
Comment: Welcomed women into his administration but not on to the links
Policy advisor Melody Barnes became first woman to be invited for a round with Obama
(CNN) -- Picture U.S. President Barack Obama moving forward with his arm outstretched. Is he about to shake hands? Emphasize a remark? Or grab a putter?
The surprise for many of us who are watching him lead two wars, fight a recession and savor a Nobel Peace Prize, is that the president indulges a passion for golf.
"It's the only time that for six hours, first of all, that I'm outside," he told an interviewer from CBS News. "And you're hacking away and hitting some terrible shot and your friends are laughing at you. It feels as if, you know, you're out of the container."
Obama has long been known as an accomplished and sometimes aggressive basketball player. His frequent after-hours games with players from the cabinet and Congress are a coveted invitation in the U.S. capital.
But he's also managed 24 outings for golf in his first 40 weeks on the job. It took his predecessor George Bush nearly three years to get in that much time on the links.
Bush eventually gave up the game while in office. He reportedly felt it looked too lighthearted and leisurely for a wartime commander-in-chief.
Obama obviously feels otherwise. But that doesn't mean his game has escaped scrutiny.
Journalists have studied his skills: "Less than presidential, but not terrible," opined Time Magazine. Critics have noticed that the company he's been keeping when playing both basketball and golf consists only of men.
He welcomed women to positions in his administration, but not to join him on the course or the court.
"They're missing out on ability to relationship-build with the president, relationship-build with others who he surrounds himself with," said feminist activist Amy Siskind.
Obama called that kind of judgment 'bunk' but it wasn't until the questions and critical comments started that he found a single partner of the opposite sex.
Last weekend, White House policy advisor Melody Barnes became the first woman invited to break the grass ceiling and join Obama for golf.
All 18 holes were off-limits to the press and Barnes didn't offer any comment.
But her presence will probably silence his critics and he can get back to concentrating on the game.