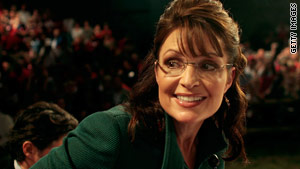 Palin's endorsement of third-party rival to GOP-anointed candidate was slap in face to party establishment.
STORY HIGHLIGHTS
Sarah Palin stepped down as governor of Alaska in July
She is often considered one of the potential GOP 2012 contenders
CNN poll: Palin has lost support among independent voters
Conservative writer: "Palin has thrown the old GOP playbook out the window"
Washington (CNN) -- When Sarah Palin weighed in last week on the contentious special congressional election in New York, she did so in her trademark way: unconventionally.
While other potential 2012 presidential contenders largely stayed quiet on the divisive congressional race that has exposed fault lines in the party, Palin delivered a slap in the face to Republican Party leadership in Washington when she offered a full-throated endorsement of third-party conservative Doug Hoffman over the GOP's anointed candidate, Dede Scozzafava.
Palin's surprise backing -- not even Hoffman's press secretary knew it was coming until it popped up on his Google reader -- left some political observers scratching their heads, wondering why Sen. John McCain's running mate would risk alienating her party's establishment for a long-shot candidate in a race with little national visibility.
Palin's credibility with the conservative wing of her party is already solid, unlike other potential 2012 candidates who are either largely unknown to conservatives or appear too moderate, like possible 2012 contenders Minnesota Gov. Tim Pawlenty or Louisiana Gov. Bobby Jindal.
Instead, some strategists say Palin should begin to court less partisan-charged voters, or at least avoid alienating them, if she's serious about being a viable presidential candidate.
"In the year since the election has ended, [Palin's] done nothing to expand her appeal beyond that base to the middle of the electorate where elections are decided," former McCain campaign manager Steve Schmidt said recently. "That independent vote is going to be up for grabs in 2012."
But Palin's latest move laid bare the unpredictability that has come to characterize the former Alaska governor since her bid for the vice presidency came to an end nearly a year ago, and has again raised the question of what, exactly, she wants and which game plan she is following.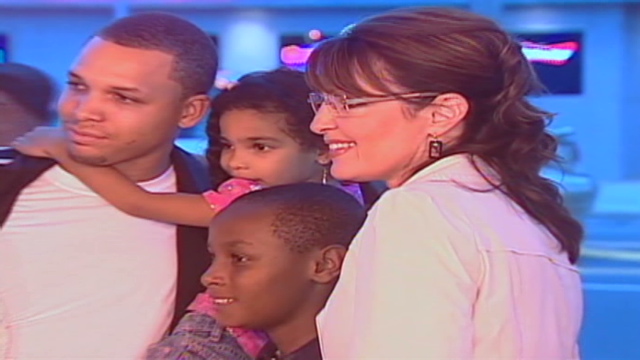 Video: Poll: Palin can't be president

Video: McCain: Tensions with Palin
To be sure, if the former governor is considering a run for the White House in 2012, as several unaffiliated Republican strategists and political observers believe that she is, at first blush she is off to a less than auspicious beginning.
In some ways, the last year has unfolded for her like a reality TV show gone wrong: a governorship plagued by ethics investigations that ended with a shocking and widely mocked resignation speech, the repeated airing of sour grapes from former McCain campaign aides, a series of embarrassing scheduling mishaps at key Republican Party events, and a bevy of tabloid reports carrying insidious allegations about her personal life.
Just-released CNN polling confirms the last 12 months have taken a toll on the Alaska Republican's popularity. Her overall favorable rating has dipped to 42 percent and she trails former Arkansas Gov. Mike Huckabee in a hypothetical matchup for the GOP presidential nomination in 2012 by 7 points. Moreover, Palin's unfavorable rating is 15 points higher than Huckabee's.
Palin has also made few of the conventional moves befitting a presidential candidate-in-waiting: She's rarely shown up at party events, has made virtually no public appearances since she resigned the governorship, or granted no national media interviews and retained no political staff.
What could be most troublesome for Palin at this stage: Most Americans can't seem to envision her ever being the commander-in-chief.
"Her biggest problem is the perception that she is not qualified to be president," CNN Polling Director Keating Holland said. "Seven in 10 Americans, and nearly half of all Republicans, say she is not qualified. It's a problem that politicians have faced before, but one that few have been able to overcome."
On the other hand, the former Alaska governor keeps injecting herself into national policy debates, largely from Facebook postings that have taken aim at President Obama's stances on a host of issues, a sign that she is set on remaining a relevant political figure.
Palin has thrown the old GOP playbook out the window
--Matt Lewis, conservative writer
She's also retained a fervent following and the bona fide rock-star status that enabled her to pack more campaign town hall meetings than McCain could on his own.
Two-thirds of all Americans in the CNN poll think she is not a typical politician. If Palin has her eye on the White House, she's staking out a different path toward it.
"Palin has thrown the old GOP playbook out the window," said Matt Lewis, a conservative writer for the Web site Politics Daily. "She believes that the world has changed, that all the old rules don't apply, and the conventional wisdom no longer exists."
That the former Republican vice presidential nominee hasn't broadened her political appeal in the last year was made clear when the two Republicans in the midst of hard-fought races for governor this November, Chris Christie in New Jersey and Bob McDonnell in Virginia, both declined to invite her on the campaign trail, fearing she may turn off independent voters.
Other Republican candidates vying for office in 2010 have only offered vague assurances the Alaska Republican is welcome in their territory, well aware Democratic opponents will seize on any sight of the divisive political figure.
The CNN poll also shows Palin has lost support among independent voters over the last year, drawing approval from 41 percent of them now, 10 points lower than that group's approval last year. She fares even worse with self-identified moderate voters, drawing only a 34 percent approval rating.
But does any of that matter? It's usually die-hard conservatives who vote in Republican presidential primaries, and Palin's support among this group remains strong, 62 percent, according to the CNN poll. And an eager army continues to support her, some of whom have raised more than $40,000 in hopes that she'll appear at an Iowa GOP event next month.
Moreover, as the Tea Party movement has made clear, a passionate grassroots movement now exists, ready to embrace a leader.
If the Alaska governor locks down that niche voting bloc ahead of the presidential primary season, she could face a smoother course to the nomination. On the flip side, if she's seen as too closely aligned with the Rush Limbaugh and Glenn Beck crowd, her viability as a national candidate could virtually become nonexistent.
By any measure, it's a high-risk, high-reward strategy.
"There [are] a lot of things happening that are changing," Lewis said. "It could be that Sarah Palin has captured that zeitgeist, that she sees things that nobody else sees, or it could be that she's running a really bad campaign. We'll find out."