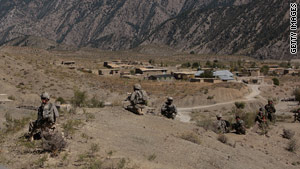 U.S. troops in Afghanistan will be the topic when the Joint Chiefs of Staff meet with President Obama, sources say.
STORY HIGHLIGHTS
NEW: Meeting comes as troop death toll climbs; this is deadliest month since war began
Meeting will give Joint Chiefs a chance to describe impact of troop increase
Army, Marines have said increase will make it harder to give troops promised time off
Recent Pentagon war game analyzed impact of sending more troops to Afghanistan
Washington (CNN) -- President Obama is scheduled to meet with the Joint Chiefs of Staff on Friday as part of his reassessment of the military strategy in Afghanistan, a White House spokesman said Tuesday.
"It's a chance to consult with uniformed military leadership as a part of his Af-Pak [Afghanistan-Pakistan] review," White House spokesman Tommy Vietor said. "The president wants to get input from different services."
The meeting -- which is scheduled to take place at the White House -- will give the chiefs of staff, each representing one branch of the military, an opportunity to describe directly to Obama the impact on the military if a large number of additional forces are sent to Afghanistan, two unnamed military sources told CNN's Barbara Starr.
By law, the chiefs' major responsibility is training, equipping and providing forces for combat. Both the Army and Marine Corps have expressed concerns that if a significant number of additional forces is sent to Afghanistan, it could make it tougher to give troops the promised time at home with their families between overseas tours.
Separately, another U.S. military official confirmed that the chairman of the Joint Chiefs, Adm. Michael Mullen, recently oversaw a complex war game in the Pentagon analyzing the impact of sending additional forces to Afghanistan.
That war game looked at various scenarios, ranging from just a few thousand troops up to the 40,000 troops that U.S. commander Gen. Stanley McChrystal is reportedly seeking, the official said. Because the war game was classified, the official would not offer specific details or be identified.
Officials are also trying to determine at what point more U.S. troops would be negatively viewed by the Afghan people.
Obama has held a series of high-level administration discussions on Afghanistan and Pakistan and how best to confront Taliban and al Qaeda militants threatening the governments of both countries. The sixth of those meetings was held Monday at the White House.
After the meeting, Obama flew to Florida, where he told service members at the Jacksonville Naval Air Station that he would not risk their lives by rushing into a new war strategy.
The strategy review is being conducted against a backdrop of rising U.S. casualties in Afghanistan and political turmoil surrounding a planned November 7 Afghan presidential election runoff.
Two roadside bombs killed eight U.S. service members on Tuesday , the military said. An Afghan civilian working with NATO troops also was killed in the attacks in southern Afghanistan, the military said.
The attacks happened a day after 14 Americans were killed in a pair of helicopter crashes in Afghanistan. It is the largest number of Americans killed in that nation in a single day in more than four years.
With the deaths of two troops on Sunday, a total of 24 Americans -- most of them military -- have been killed in a 48-hour period. That makes October 2009, with 58 fatalities, the deadliest month for the U.S. military since the Afghanistan war began in October 2001.
As the runoff election nears, U.S. military forces are trying to help provide security for the presidential campaign, which is becoming increasingly contentious.
Abdullah Abdullah, the main challenger to incumbent President Hamid Karzai, said Monday that he wants the removal of the country's election chief and 200 other staffers of the election commission to ensure a fair runoff.
Abdullah and others have charged that massive fraud occurred in the first round of voting on August 20. The initial results gave Karzai the win, but a subsequent review by a U.N.-backed panel of election monitors threw out nearly one-third of Karzai's votes because of "clear and convincing evidence of fraud."
The result left Karzai short of the 50 percent needed to avoid a runoff. After a flurry of meetings with U.S. and U.N. officials, the Afghan president agreed to the November 7 vote.
CNN's Kate Bolduan contributed to this report.