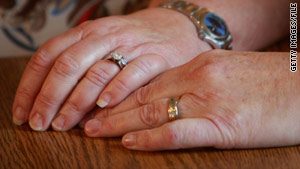 If the legislation is upheld, Maine would join five other states in allowing same-sex marriage.
STORY HIGHLIGHTS
Proposition seeks to overturn bill signed by governor six months ago
Governor says he decided "civil union didn't equal a civil marriage"
But, he says, state constitution allows the people to have their say
(CNN) -- Voters in Maine will decide Tuesday whether to overturn the legislation signed by Gov. John Baldacci nearly six months ago that allows same-sex couples to wed.
Baldacci, who originally opposed the legislation, said upholding the bill comes down to a fundamental understanding of equal protection and constitutional responsibility.
"Initially, I had the opinion for several years that civil unions were the limitations of what I was willing to support," Baldacci said. "But, the research that I did uncovered that a civil union didn't equal a civil marriage."
On May 6 when Baldacci signed the legislation, he did so knowing there was a possibility that voters could overturn it.
"Just as the Maine Constitution demands that all people are treated equally under the law, it also guarantees that the ultimate political power in the state belongs to the people," Baldacci said in a statement released as he signed the bill.
On September 2, opposition groups delivered the 55,087 signatures necessary to put the legislation to a vote on the November 3 ballot.
California's state Supreme Court issued a similar ruling in May 2008 after which some 18,000 gay and lesbian couples got married there. But in November 2008, California voters approved Proposition 8, which amended the state constitution to ban gay marriage.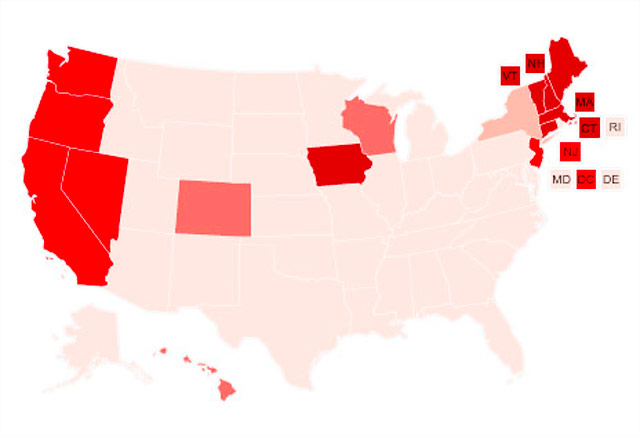 Map: Same-sex laws by state
If the legislation is upheld, Maine would join Massachusetts, Vermont, Iowa, Connecticut and New Hampshire in allowing same-sex marriage.
Chris Potholm, a professor of government at Bowdoin College and a Maine resident, said the spotlight is now on Maine because of the defeated bill in California.
"I think this is a nationwide effort to get the gay marriage agenda back on track -- not just in Maine, but in terms of the whole country," Potholm said.
But the leading opposition group, Stand for Marriage Maine, says accepting the legislation would strip the meaning and tradition out of marriage.
"Question one on the ballot offers Mainers a choice, and the choice is whether to keep marriage legally defined ... or to take that definition and replace it with a radical definition," said Stand for Marriage Maine communications director Scott Fish.
The latest campaign finance reports show Stand for Marriage Maine has raised $1.1 million, while No on 1/Protect Maine Equality, the group leading the fight to keep the legislation alive, raised $2.7 million in the last quarter.
Both campaigns have waged a ground war, airing television ads, handing out pamphlets, canvassing door to door and running phone banks.
Like Baldacci, No on 1 says the bill is a true testament to Maine values.
"[Citizens] don't believe in a separate set of laws for a separate set of people," said Mark Sullivan, the organization's communications director. "When you try separate, it's never equal."
Even in tough economic times, Sullivan says people across the country are reaching into their pockets and getting involved in any way possible to help the cause. Beyond donating money and time, the campaign has seen donations in frequent flyer miles so other supporters can travel to Maine to volunteer.
Both sides are concerned that voters will not understand the language on the ballot.
Question 1 reads: "Do you want to reject the new law that lets same-sex couples marry and allows individuals and religious groups to refuse to perform these marriages?"
Potholm said confusion on Election Day could work in same-sex marriage advocates' favor.
"Either small amounts or big amounts of confusion help whichever side has the no vote," he said. "When in doubt, [people] vote no."
Regardless of the outcome, Baldacci said Maine will have gained because of the educational efforts put forth by both campaigns.
"What you want to have coming out of this is respecting each other regardless of your sexual preference," the two-term governor said.
Maine residents will also vote whether their state should legalize the use of medical marijuana on the same ballot.