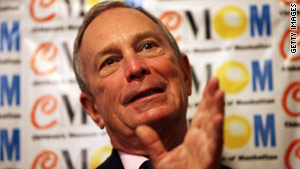 New York Mayor Michael Bloomberg, an independent, leads in the polls in the race to keep his job.
STORY HIGHLIGHTS
Major cities across United States will elect mayors in November
In New York, Michael Bloomberg aims for third term after changing law to allow one
In Atlanta, which has had a black mayor for 35 years, front-runner is white
In Detroit, ex-NBA player Dave Bing leads polls by double digits
(CNN) -- Last fall, New York Mayor Michael Bloomberg won his campaign to extend the city's mayoral term limits from two four-year terms to three. Next week, he'll see if voters think he should serve a third term.
Bloomberg, an independent, held a 16-point lead over Democratic City Comptroller Bill Thompson, 52-32 percent, in the latest polling conducted by Marist College. Twelve percent of likely voters said they supported other candidates or remained undecided.
Before running for mayor, Bloomberg was a lifelong Democrat, but in 2001 put his name on the ballot as a Republican. The New York billionaire became an independent in 2007.
Bloomberg's poll numbers took a minor hit late last year after he persuaded New York's city council to overturn the term limits. The Marist survey indicated that nearly half of those polled said Bloomberg's decision to change the term limits law made no difference in the way they vote, with just over 40 percent saying the move makes them less likely to support Bloomberg.
Bloomberg has used his office to try to improve the city's health, banning the use of trans-fats throughout the city in 2006 and requiring restaurants and cafes to publish the nutritional information and calorie content of food on their menus.
New York is one of 380 cities across the country electing mayors on November 3. Elections in some major cities across the country could change the political landscape.
• In Boston, Massachusetts, Thomas M. Menino is locked in the toughest re-election fight of his nearly 16-year career as mayor. Menino is running for an unprecedented fifth term against City Councilman Michael Flaherty. If re-elected, Menino would be the longest-serving mayor in Boston's history.
Before this year, Menino was either elected by a large majority or ran unopposed, according to his Web site. The latest Boston Globe poll shows Menino with a 20-point lead.
"The race has certainly tightened since May, as the campaign has heated up and Flaherty has gotten his campaign running, but the broader picture is that the voters of Boston still seem reluctant to change horses,'' Andrew E. Smith, director of the Survey Center at the University of New Hampshire, told the Boston Globe.
• In Atlanta, Georgia, there are many candidates hoping to succeed two-term Mayor Shirley Franklin. The top three candidates include City Councilwoman Mary Norwood, City Council President Lisa Borders and former state lawmaker Kasim Reed.
The southern city has a 35-year history of electing African-American mayors, but that could change this year if front-runner Mary Norwood, a white city councilwoman, is elected.
• For the first time in nearly 15 years, voters in Charlotte, North Carolina, are facing an open race for mayor after seven-term Mayor Pat McCrory decided not to seek re-election. Charlotte, which is North Carolina's largest city, tends to lean Democratic, but has elected a Republican mayor for the past 21 years.
Democrat Anthony Foxx hopes to break that streak in his race for office against Republican candidate and businessman John Lassiter.
• In Detroit, Michigan, Kenneth Cockrel stepped in as interim mayor when Mayor Kwame Kilpatrick resigned and pleaded guilty to two counts of obstruction of justice in September 2008.
In May 2009, Dave Bing, a former NBA player, defeated Cockrel in a special election for the seat. Now, Bing is facing off against Tom Barrow in hopes of being elected to a full four-year term in Detroit.
A late October poll conducted by WXYZ-TV put Bing ahead of Barrow in double digits, 47-26 percent.
• The spotlight is also on Seattle, Washington, where Mayor Greg Nickels lost his primary battle. Mike McGinn and Joe Mallahan have been locked in a neck-and-neck race to be the next mayor of city.
The biggest point of contention: replacing the crumbling Alaskan Way Viaduct, which would cost the city millions of dollars. Businessman Mallahan is for the proposed replacement, while former Sierra Club leader McGinn says the plan, which includes building a four-lane tunnel, costs too much.
Other cities voting for mayors include: Dayton, Ohio; New Haven, Connecticut; Manchester, New Hampshire; Santa Barbara, California; Miami, Florida; and St. Paul, Minnesota.