WASHINGTON (CNN) -- Senate Democrats struggled Tuesday to find enough votes to pass a controversial measure intended to ensure that doctors experience no cut in Medicare reimbursement payments over the next 10 years.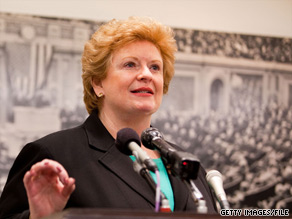 Sen. Debbie Stabenow says reversing the cuts is needed to create more stability for health care providers.
The bill would cost $247 billion and is separate from proposals to overhaul the nation's health care system expected to reach the House and Senate in coming weeks.
Under the bill proposed by Sen. Debbie Stabenow, D-Michigan, Congress would override a formula it set more than a decade ago that was intended to prevent Medicare costs from rising faster than planned. The formula calls for cutting projected Medicare reimbursements to doctors, and Stabenow's bill would reverse those cuts, just as Congress has done repeatedly since the formula was imposed in 1997.
Democrats say addressing the formula must remain separate from new health care reform proposals that include plans to save $500 billion in Medicare costs by eliminating waste and fraud.
However, Republicans argue the Stabenow bill is intended to avoid adding the higher-than-planned Medicare costs to the comprehensive health care legislation.
Stabenow argued at a Capitol Hill news conference Tuesday that her bill is necessary to create more stability for health care providers in a current climate of uncertainty. She was joined by representatives of the American Medical Association, the senior citizens advocacy group AARP and the Military Officers Association of America.
"It's important to invest in quality care," Stabenow said. "Now is the time, before we move forward with a new [health care] system, to get this right."
Dr. J. James Rohack, head of the AMA, argued the formula should be permanently scrapped.
"There's widespread agreement that this formula is broken," he said.
Without congressional action, Rohack said, physicians could face a cumulative 40 percent reduction in Medicare payments over the next six years -- a huge problem as baby boomers become old enough to qualify for Medicare. Doctors are currently slated to be hit with a 21 percent reimbursement cut early next year.
Conservative critics have slammed the Stabenow bill as a fiscally reckless attempt by health care reform advocates to win the support of groups such as the influential AMA at taxpayer expense.
In addition, Republicans claim that Democratic efforts to divorce changes in the Medicare reimbursement formula from broader health care reform efforts are an attempt to mask the true costs of reform. Democratic leaders have promised that the sweeping health care bills currently moving through Congress will not add to the federal deficit.
"It's incredibly troubling that, on one hand, we have members of Congress arguing that we need to have health care reform in order to get control of the fiscal challenges we face, yet, on the other hand, passing legislation that undermines past efforts to control health care costs and would in fact make the deficit situation far worse," said Maya MacGuineas, head of the Committee for a Responsible Federal Budget.
The Senate is expected to vote later this week on the Stabenow measure, known as "doc fix" because it removes planned cuts to payments to doctors for Medicare services. On Tuesday, though, Senate Democrats emerged from a meeting uncertain if they had enough votes to pass it.
"We were told at the onset that this was going to be bipartisan," complained Sen. Dick Durbin of Illinois, the chamber's Democratic whip. "But it turns out the Republicans believe that they can derail health care reform by defeating the doc fix."
Democratic leaders worry that if they cannot pass the doc fix bill now, it will be added to the comprehensive health care bill as an amendment that would drive up the overall cost of the reform legislation to more than $1 trillion over 10 years -- a price tag too high for some moderate Democrats.
Most of the Senate Democrats' weekly policy meeting was devoted to the issue, several senators said. One idea was to seek a short-term response to the doc fix issue, rather than Stabenow's 10-year approach, they said.
"There have been one-year, two-year, five-year, 10-year fixes proposed," Durbin said. "How you pay for them and how many votes you put on the board is what it's all about."
Sen. Kent Conrad, D-North Dakota and chairman of the Budget Committee, floated a compromise that would reverse the Medicare reimbursement cuts for two years at a cost of $25 billion, rather than the 10-year, $247 billion plan by Stabenow. Conrad said his plan would be paid for by spending cuts and revenue increases, but he provided no details.
Republicans remained opposed.
"This is a very cynical ploy, a gimmick, if you will, that allows them to separate out dealing with the physician reimbursement issue, so they can claim that somehow their health care reform bill is in balance," said Sen. John Thune of South Dakota, a Republican leader.
E-mail to a friend

CNN's Ted Barrett and Alan Silverleib contributed to this report.
All About U.S. Medicare • Debbie Stabenow • American Medical Association