By Gloria Borger
CNN Senior Political Analyst





Editor's note: Gloria Borger is a senior political analyst for CNN, appearing regularly on CNN's "The Situation Room," "Campbell Brown," "AC360°" and "State of the Union With John King" as well as other programs during special event coverage.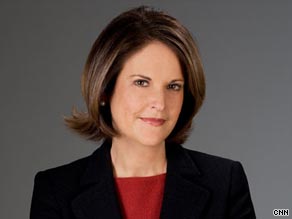 Gloria Borger says President Obama's plans are running into Americans' widespread mistrust of government.
(CNN) -- So now comes the hard part.
Now that a key Senate committee has finally moved a health care bill, President Obama can get to work to try and figure out a final version of reform.
Now that Gen. Stanley McChrystal has recommended a large troop buildup in Afghanistan -- setting off an internal debate about recalibrating strategy -- the president can decide what he wants to do about the war.
And now that the stock market is on the rebound -- while unemployment remains high -- Obama can figure out how to come up with a "son of stimulus" package that targets jobs.
Tough decisions are part of the president's job description, after all.
But here's the tricky part: how to convince the public that you -- and government -- will do the right thing, or are even capable of it.
Sure, distrust of government is as old as government itself. And there's an inherent conflict in current public thinking, as scholars William Galston and Elaine Kamarck point out: While people want government to solve big problems like health care, they don't trust the government to do it. "There is nothing new about this ambivalence," they write in an essay aptly titled "Change you can believe in requires a government you can trust." They write, "But how ... the president deals with it may make the difference between success and failure."
So what's a president with a big agenda to do? He could have narrowed it, but instead decided to play "all-in." Because he was so popular, and because voters were so ready for a change, there was some thought the country might buy into the notion that good leadership could actually change the ethos of bad government. Obama probably believed it, too.
So when the economic stimulus package was hatched, with hardly a Republican vote, the White House remained hopeful that, in the end, its success would restore confidence in their work. And they have since toiled mightily to brag about the stimulus package as evidence that government can work. After all, if FDR could do it, why not Barack Obama?
Instead, the stimulus has become a handy target. Wall Street may be doing well, both conservatives and liberals rail, but the jobs elsewhere are not coming back. And as the president now moves to ask the nation to support an overhaul of health care, voters are still asking: Why should we trust the government to do that?
Consider these numbers: At the end of the Bush administration -- with an unpopular president -- just 17 percent of the American public trusted the government to "do the right thing" all or most of the time. And for all of the popularity of Barack Obama, that number now stands at a measly 23 percent. After Bill Clinton lost health care reform -- and control of the Congress -- trust in government in 1994 was at an all-time low: 21 percent. We're almost there now.
Ronald Reagan understood, and used to his benefit, the antipathy toward government. He used to joke that the scariest words in the lexicon were "I'm from the government and I'm here to help." He wanted to make government smaller, and his overall success with that notion prompted President Clinton to famously tell Congress "the era of big government is over."
Well, it's back. The question is whether President Obama can convince us that more government is what we want -- and need. As Reagan once told us, "Trust, but verify." If only we could.
The opinions expressed in this commentary are solely those of Gloria Borger.
E-mail to a friend

All About Republican Party • Democratic Party • Barack Obama