By Ted Barrett and Ed Hornick
CNN






WASHINGTON (CNN) -- The focus on health care reform now shifts to the Democratic leadership in Congress a day after the Senate Finance Committee voted through its version of the health care bill.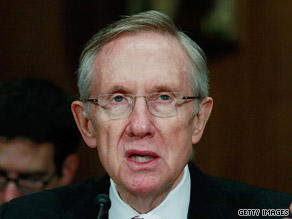 Senate Majority Leader Harry Reid will be a key player in putting a health care bill together.
Senate Majority Leader Harry Reid, D-Nevada, initially began deliberations behind closed doors Wednesday in an effort to merge the conservative-leaning Finance Committee legislation with a more liberally drawn bill approved by the Senate Committee on Health, Education, Labor and Pensions.
The meeting, however, was moved at the last minute from Reid's office to a large conference room adjacent to it on the second floor of the Capital.
The late Democratic Sen. Ted Kennedy used the room as his private office after he was diagnosed with brain cancer, in part, because of its easy access to the Senate floor.
Those in attendance included: Reid; Senate Finance Chairman Max Baucus; Sen. Chris Dodd of the Health, Education, Labor and Pensions Committee; White House Chief of Staff Rahm Emanuel; Health and Human Services Secretary Kathleen Sebelius; Phil Schiliro, the director of legislative affairs for the White House; Peter Orszag; director of the Office of Management and Budget and Nancy-Ann DeParle, the director of the White House Office of Health Reform.

Watch what it takes to pass a bill »
The health care reform debate reached a milestone Tuesday as Baucus' committee passed an $829 billion plan projected to extend coverage to an additional 29 million Americans.
Over the past two weeks, the Finance Committee has considered several hundred amendments to the sweeping bill. Sen. Olympia Snowe, R-Maine, was the lone committee member to cross party lines, breaking with other Republicans to vote for the measure. All the committee's Democrats supported the bill.

Watch more on the health care debate »
The primary difference between the Finance Committee bill and the Health Committee legislation involves a government-run insurance company, the public option.
The Health Committee bill provides for a robust public option designed to compete with insurance companies and force them to rein in costs.
The Finance Committee ditched the public option in favor of nongovernment-run health care co-ops, a nod to conservative Democrats and Republicans who fear a government takeover of the health care system.
Reid's goal is to emerge with a single bill that can win at least 60 votes in the Senate, meet President Obama's promise to change dramatically the way health care is paid for and provided, and cost no more than $900 billion over the next 10 years. Senate aides expect that effort to take a couple of weeks.
Don't Miss
Then the Senate must find common ground with the House of Representatives, and so far there appears to be little. House Democrats have said they won't pass a bill that doesn't include a public option.
Leaders in the House have been meeting over the past months in an effort to merge three bills passed out of committees and bring down projected costs. House Speaker Nancy Pelosi, D-California, has said she expects a final version for consideration by the full chamber soon, but she hasn't provided a specific timetable.
In general, both parties agree on major aspects in overhauling health care, among them capping consumers' annual out-of-pocket expenses for health care and halting insurance company practices of denying coverage for pre-existing conditions. They also agree on creating incentives for preventive health care to help lower overall costs.
The Democratic leaders in both chambers want to bring liberals, progressives and conservatives in the party together to use its majority in both chambers to pass a bill this year.
In the Senate, Reid needs 60 votes to overcome a possible Republican filibuster. There are 60 seats in the Democrats' Senate caucus, but some independents or moderates are unlikely to support a public option or some of the more costly overhaul plans.

Reid could implement a legislative option known as reconciliation, which would allow Democrats to pass a bill with 50 votes instead of 60. However, Republicans have promised a "minor revolution," in the words of GOP Sen. Lamar Alexander of Tennessee, if Democrats resort to that rarely used tactic.
Snowe has proposed a possible compromise: a trigger mechanism that would create a public option in the future if specific thresholds for expanded coverage and lower costs are not met. The trigger has yet to be included in any proposal.
E-mail to a friend

CNN's Kristi Keck and Brianna Keilar contributed to this report.
All About Health Care Policy • Harry Reid • Nancy Pelosi