By Ed Hornick
CNN






WASHINGTON (CNN) -- During the 2008 presidential campaign, analysts noted that then-Sen. Barack Obama ran a relatively tight ship -- complete with a near lock-step message strategy and a loyal political team.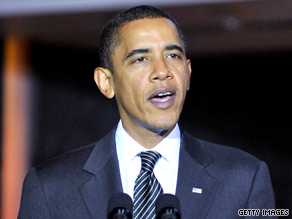 President Obama's term in office so far is relatively on message, a Democratic strategist said.
But since Obama has become president, some say his administration is failing to reflect the tight-knit campaign that helped lead the Illinois Democrat to victory.
One reason: size matters.
That is, the vast size of the federal government, bureaucratic red tape and the scale of his top advisers' egos, according to an influential political observer.
"When you're running the country, it's a whole different ball game," said Stuart Rothenberg of the Rothenberg Political Report. "Not only is the number of people exponentially larger in terms of the number of people involved, but you have bigger personalities; you have egos; you have people of accomplishment who are accustomed to speaking their mind."
A second reason: frustration.
Several Democratic Party members are frustrated by the president's lack of progress on big issues. Liberal Democrats are frustrated for his not forcefully pushing the government-sponsored public option idea for health care reform.
Activists also are worried about the president's inaction on repealing the military's "don't ask, don't tell' policy, which effectively bars openly gay people from serving in the military.
But a former top Obama campaign aide said gay Americans have every right to be impatient and continue to pressure the president and Congress.
"But they should also understand that, while President Clinton, while President Obama will sign any of these pieces of legislation that ... Congress will put on his desk, he does not have the ability to act on his own," said Steve Hildebrand, who served as Obama's deputy national campaign director.
Hildebrand, who is openly gay, added that the pressure must stay on the president, but "we should ratchet up the pressure in a big way for Congress to give us the rights that all other Americans have."
A veteran Democratic strategist added that that every president goes through a learning curve from campaigning to governing -- and faces criticism on the pace of getting legislation passed.
"Especially if you look at the first eight or nine months of George Bush's administration," said Peter Fenn, a strategist and founder of Fenn Communications. "If you look at the eight or nine months of the first Clinton presidency, things were, to put it mildly, somewhat chaotic."
A third reason: shaky message discipline.
Anytime an administration is dealing with tough issues and strong personalities, advisers undoubtedly will say things that they might have to retract later.
Unlike a campaign staff, Rothenberg noted, it's harder to keep top administration officials on message.
"I think it's harder to control them and they're more likely, in the middle of an interview, to start freelancing and telling you what they think rather than what the administration policy is."
Fenn said that, so far, the Obama administration has been "characterized by a great deal of discipline."
But aides have often unleashed personal thoughts on policy in television interviews and speeches, much to the chagrin of "no drama Obama."
Most recently, Gen. Stanley McChrystal, the top U.S. commander in Afghanistan, made no secret about his belief that more U.S. troops are needed in Afghanistan to quell the increasing violence.
McChrystal, who was picked by Obama, made the case for a counterinsurgency strategy recently in London, England, causing concern in the administration.

Watch more on Obama's Afghanistan dilemma »
"We need to reverse the current trends, and time does matter. Waiting does not prolong a favorable outcome. This effort will not remain winnable indefinitely," McChrystal said.
Shortly after, some suggested that it would be better for strategy to be kept within the walls of the White House and Pentagon.
As to whether McChrystal's public comments have complicated deliberations, National Security Adviser James Jones said, "Ideally, it's better for military advice to come up through the chain of command."
On another front, the White House in August sought to shoot down concerns that middle-class families may face a tax increase in order to combat rising deficits and a struggling economy. The Treasury secretary and a top economic adviser had floated the idea that tax increases to fund the nation's economic recovery could extend beyond the wealthiest Americans.
Treasury Secretary Timothy Geithner and Lawrence Summers, director of the National Economic Council, said they could no longer guarantee that the middle class will be spared a tax increase.
When asked about the comments, White House Press Secretary Robert Gibbs said, "They allowed themselves to get into a little hypothetical back-and-forth."
During the campaign, Obama said the middle class -- which he defined as anyone making less than $250,000 -- would not face any tax increase.
But could the so-called leaks and offhand remarks simply be part of a larger strategy of floating trial balloons on policy?
"I think there's always trial balloons that get sent up," Fenn said, adding that it could be a way for the administration to gauge the public's reaction before a policy is announced.
Rothenberg said leaks often are meant to push the administration "one way or another."
"But you have other instances where people may have said something that wasn't based on some bigger strategy or manipulating boxes in the White House," he added. "They just freelance a little too far or too fast."

Historian Julian Zelizer wrote in a recent CNN.com commentary that Obama so far has maintained his "steely demeanor" in the White House.
"Even during the highs and lows of the past few months -- from the raucous town hall meetings to the Democratic fights over the public option -- Obama has stuck to his game plan and continued to let legislators work out a bill," he wrote. "He has not dramatically shifted in more difficult times and he has continued to assure voters that there will be a successful outcome. This president, for the most part, has used the strategy of the tortoise, not the hare."
E-mail to a friend

All About James L. Jones • Stanley McChrystal • Timothy Geithner • Barack Obama