To: Interested parties
From: John King, CNN chief national correspondent
Re: Monday Memo
(CNN) -- For a sense of the economy, it is a good week to track the earnings reports from Wall Street. And for the two biggest issues confronting the Obama White House -- Afghanistan and health care -- keep your eyes on Washington.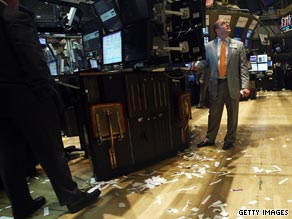 Earnings and consumer confidence reports will affect markets and indicate whether the economy is rebounding.
It was the collapse of the financial sector that played the biggest role in the economic turmoil of 2008, and several earnings reports in that sector this week are sure to influence both financial markets and the political debates over bailouts and bonuses. JP Morgan Chase, Citigroup and Bank of America are scheduled to report their earnings.
Consumer spending is another economic engine, and if there is early evidence of a rebound, the earnings from Johnson & Johnson and General Electric might provide clues, just as the numbers from Google and Intel will give a sense of the tech sector.
Washington celebrates Columbus Day on Monday, so the political week begins in earnest on Tuesday. The Senate Finance Committee likely will dominate the day as it votes on a 10-year, $829 billion health care plan.
Liberals don't like that this bill has no public option and that much of the money to pay for it comes from a fee on so-called Cadillac insurance plans. (Some unions have negotiated generous plans and worry new fees would be passed on to workers). Conservatives say it raises taxes and lacks other big cost-saving measures such as malpractice reforms.
State of the Union
John King reinvents Sunday talk: more time for more politics.
9 a.m. ET Sunday

Still, at the moment it is the leading vehicle in President Obama's bid for major health care changes this year, and the committee vote will frame the stakes for the more important Senate floor debate.
One big question is whether the proposal will get any Republican votes, either in committee or on the floor. Yet if Sunday is any guide, Democrats won't use a report issued late last week by the Congressional Budget Office to make an overture to the GOP.
The report indicated a potential $54 billion savings in health care costs if it included medical malpractice reform, an issue long near the top of the Republican health care wish list.
"What we're doing in this legislation is focusing on new technologies for electronic medical records, information for physicians, ways to be able to cut down on medical errors," Sen. Debbie Stabenow, D-Michigan, said Sunday. "I think there's a different way to come at it. The Republicans have a very traditional focus, over and over again, whether or not it has worked."
Sen. Robert Casey, D-Pennsylvania, echoed Stabenow's objections: "I don't think the way to go is to limit the rights of Americans who are injured by negligent or intentional conduct.
"And the idea -- and I'm sure you could construct a strategy where you can save money, but I don't want to support a policy where you're saving money on the backs of injured workers and adversely impacting their families. A $250,000 cap on damages, in my humble opinion, is insulting to our system of justice."
Afghanistan is another flashpoint in the week ahead.
"A mistake of historic proportions," is how Sen. John McCain, R-Arizona, answered this question: What happens if the president decides not to pick the most robust option put forward by the commanding general in Afghanistan and approve sending 40,000 or more new troops.

Watch McCain's reasoning for sending more troops »
"What the hell are we doing?" was the very different take from anti-war Rep. James McGovern, D-Massachusetts, summing up what he calls the growing public sentiment that it is time -- at a minimum -- to make clear troop levels will go no higher.
The president hosts another meeting of his national security team on Wednesday, and if the Sunday show debate didn't do enough to remind him of the policy and political divides over what to do next in Afghanistan, hearings Wednesday and Thursday by the House Armed Services and the House Foreign Affairs committees will no doubt serve as stages for the debate over troop levels, corruption in Afghanistan President Hamid Karzai's government and whether Pakistan's talk of taking more aggressive action against al Qaeda on its side of the Afghanistan-Pakistan border is backed up by action.
Also of note:

On Thursday, Obama will travel to New Orleans, Louisiana, his first trip there since becoming president.
On Friday, Obama will travel to College Station, Texas, for a community service forum hosted by President George H.W. Bush and the Points of Light Institute at the George Bush Presidential Library Center on the campus of Texas A&M University.
E-mail to a friend

All About Afghanistan • Health Care Policy • National Economy