By
John King
CNN Chief National Correspondent





Editor's note: On CNN's "State of the Union," host and chief national correspondent John King goes outside the Beltway to report on issues affecting communities across the country.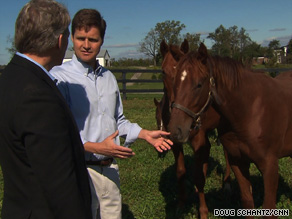 Pope McLean Jr. tells CNN's John King that a lot of farms are hurting because of the global recession.
LEXINGTON, Kentucky (CNN) -- Crestwood Farm is tucked into the rolling hillsides of Kentucky's legendary bluegrass country. Kipling and Unbridled Energy are among the stallions critical to the reputation -- and the bottom line -- of the McLean family business.
And just how do the stallions prove their value?
"When their progeny does well on the race track," Pope McLean Jr. said. "Can't bluff that. That's when they prove what they are worth."
Pope McLean Sr. got into the horse business in college and took over Crestwood Farm in 1970. His son worked on the farm while growing up. After college he took a job in the financial sector, but in 1991 he returned to Crestwood. His brother Marc returned a few years later, and their younger sister Grandison joined after she graduated from college.
"It's been pretty much a family business since that point," Pope McLean Jr. said during a tour of the 1,000 acre property.
Kentucky is to horse racing what Michigan is to the domestic auto industry. Racing and breeding thoroughbreds is a multibillion-dollar business in the state and the source of some 100,000 jobs.
'State of the Union'
CNN's John King reinvents Sunday talk: more time for more politics.
Sunday, 9 a.m. ET

But "The Sport of Kings" is hardly exempt from these painful economic times, and in fact is taking a severe blow in the global recession.
"It's truly an international industry, so we have people, a lot of buyers, from Europe come in. And they have dialed back," McLean said. "Domestic buyers have dialed back their participation, as well. The good horses are still bringing decent money, but everyone has to lower their expectations."
At this year's Keeneland September Yearling Sale, which McLean calls the horse industry's version of the NBA draft, the gross was down more than 41 percent from last year, the largest year-to-year drop in the 66-year history of the auction.
"The prices are down, and our production costs increased with commodity prices going up and so forth, so it definitely puts a squeeze on commercial breeding operations," McLean said. "A lot of farms are hurting. And then you have the credit squeeze that has hurt a lot of farms, too."
McLean sees another lean year next year, and then hopes for a rebound because of an odd twist to the laws of supply and demand. In 2008, when the stock market was plummeting, 30 percent fewer mares were bred, so the supply of horses available at auction the year after next will be smaller.
"I think people just decided to pull back," McLean said. "So the supply of horses available at auction will be reduced and that should start to help market conditions."
At Crestwood, McLean predicts an "about even" year. "We're down at bit," at the moment, he says. "I feel pretty sure there will be quite a few farms that will go out of business."
Out of business is an all too common theme in Hazard, a coal country town in Eastern Kentucky's Appalachia region about 120 miles away from Lexington and horse country.
Statewide, the unemployment rate in Kentucky is 11.1 percent. Hazard is the county seat in Perry County, where the jobless rate has been on a steady climb and is 12.7 percent.
On Main Street, a clothing and novelty store is closing down, along with an adjacent print and copying shop. Fallout, locals say, from the closing of a uniform plant that had employed more than 140 people, and then a Weyerhaeuser lumber facility that employed 180.
Joanne Caron knew there were problems when Weyerhaeuser canceled weekend shifts, "but we didn't think it would be that drastic."
The bad news came suddenly in March when workers were told their jobs were being eliminated immediately. "They called us in the conference room and said due to market conditions, you know, they had to shut us down."
Caron has been looking for work for seven months. Nothing.
Her unemployment check is $746 every two weeks. She cashed in her Weyerhaeuser 401(k) and, despite the long-term risks, allows herself a small slice of that money every month, as well.
"My daughter likes to eat, and she likes clothes," Caron said with a shrug. "And we like heat and air conditioning. That's the choices we have to make."
Her 19-year-old is enrolled at the local community college, where Joanne also plans to take classes in hopes of improving her job prospects. Two older daughters completed college over the past two years, one in Florida and other here in Kentucky, but neither has been able to find work.
"So everything I told them as they were growing up: go to college, get a degree so you can get a good job, it's just not working out that way."
Caron tries to keep her spirits up, dryly joking that "you get to see everybody during the day because nobody's at work." But the long search can be demoralizing. "I worked all my life and now I'm collecting an unemployment check. I feel real uncomfortable about that, but there's no jobs available."
When Caron returned to the Weyerhaeuser plant for the first time, it made her feel sad.
"The last shift I worked was 7 a.m. to 7 p.m. Twelve hour shifts," she said as she looked through the fence, chained and padlocked shut.
"Sad to see it like this," Caron said. "I made a lot of good friends working there. We had good times working in there. It wasn't a glamorous job, but we had fun and we got along, and I miss seeing those people every day."
E-mail to a friend

All About Unemployment Rate • Horse Racing • Kentucky