By Ruben Navarrette Jr.
Special to CNN






Editor's note: Ruben Navarrette Jr. is a nationally syndicated columnist and a regular contributor to CNN.com. Read his column here.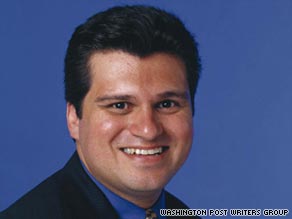 Ruben Navarrette Jr. says our prejudices can mislead us on the causes of teen violence.
SAN DIEGO, California (CNN) -- Those of us in the U.S. can be so smug about what we think we know about why some teenagers turn into bloodthirsty predators -- even when it turns out that we don't know much.
Frankly, we might know more if we didn't jump to conclusions and let our prejudices get in the way.
After the videotaped beating death of Derrion Albert, a 16-year-old African-American honors student in Chicago, Illinois, I criticized President Obama for avoiding public comment about the tragedy and thus blowing the opportunity to have the first African-American president address the issue of black-on-black crime.
Instead, the White House dispatched Education Secretary Arne Duncan and Attorney General Eric Holder to Chicago to stand in for the president. Even that gesture further enraged the local African-American community when the Cabinet secretaries -- in a boneheaded move -- convened their meetings with local officials not on the South Side where the beating took place but downtown at the Four Seasons Hotel.
But, even as I blasted the Obama administration, I would never have dreamed of criticizing the entire black community, its value or its culture. However, others did that freely.
During an interview on a conservative radio talk show, I was informed by the host that the problem was rap music and how it had coarsened the culture in the black community. Many readers pinned the blame on the breakdown of the black family as brought on by the advent of the welfare state or the mean streets of the inner city. You get the gist.
I wonder what these folks will say now that four white teenagers in the small town of Mont Vernon, New Hampshire, are accused of a horrific home invasion that left a mother dead and her daughter hospitalized. Prosecutors say the youths randomly picked a home to burglarize and -- armed with a machete, knife and other weapons -- planned to kill anyone who was home.
The ghastly episode occurred early Sunday morning. Christopher Gribble, 19, Steven Spader, 17, William Marks, 18, and Quinn Glover, 17, allegedly stormed into the home of 42-year-old nurse Kimberly Cates, whose husband was away on business.
Don't Miss
Prosecutors say that Gribble, armed with a knife, and Spader, wielding a machete, attacked and killed Cates in her bed. Then they attacked her 11-year-old daughter, Jaime, and cut her throat. Miraculously, the girl survived and, after hours of surgery, remains in stable condition.
Both Gribble and Spader face charges of first-degree murder, attempted murder and conspiracy to murder. Marks and Glover, who were also armed during the break-in, face counts of burglary and armed robbery, but they aren't charged with murder. Still, prosecutors are leaving open the possibility of charging Marks and Glover as accomplices to murder.
They should do so. They also should seek life sentences for Spader and Gribble, and show them as much mercy as they showed their victims. Our society has no use for these creeps.
Meanwhile, local townspeople are shocked.
Spader was described in media accounts as living in "an upscale area" of town while Gribble was reportedly studying to be a Mormon missionary. One has to ask the same question many people were so quick to ask after the Chicago beating: Who raised these savages, and how do we strip them of their license to parent?
In an interview with NBC News, Marks' father came across as utterly clueless. James Marks recalled how he had seen his son with Spader, who was showing off a knife, but he said the weapon looked like a toy, so he didn't tell anyone. He assured a reporter that his son didn't intend to commit murder. "I know my son," he said. "I don't think he went there to kill."
Great. Not to kill. Just to rob? To assault? To wound? That father should be very proud.
The rest of us should be questioning our assumptions. Meredith Vieira, co-anchor of NBC's "Today Show," discussed the tragedy with some local townspeople. What made the story even more frightening, Vieira said, is that "in a small town like this, these things aren't supposed to happen."
You're half right, Meredith. This kind of barbarism isn't supposed to happen anywhere -- not in small towns, or big cities, not in the suburbs or the inner city, not anywhere.
And yet it seems to be happening more often than we think -- and in more places than we realize. A recent study by the Department of Justice found that 60 percent of children had been exposed to violence in the past year, and nearly half of them had been assaulted at least once. That is not the mark of a civilized society.
We think we know so much about what causes young people to turn into monsters. But our conclusions go out the window when we discover that evil lives next door.
The opinions expressed in this commentary are solely those of Ruben Navarrette Jr.

E-mail to a friend

All About Barack Obama • Chicago • New Hampshire