From Ed Hornick
CNN






WASHINGTON (CNN) -- As one of the most influential Democrats in the House of Representatives, Rep. Charlie Rangel of New York, has seen the highs and lows that come with the job.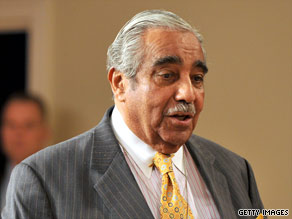 Rep. Charlie Rangel is a Democrat from Harlem, New York.
Lately, it's been a steady drum beat of criticism by Republicans against the chairman of the powerful House Ways and Means Committee, the lead body for writing tax law in the House. Rangel has been under investigation for over a year on several ethics issues, including failure to report assets and pay taxes.
The issue has the potential to become a "political liability" for Democrats, a veteran political analyst said.
"These charges are serious. And they keep adding more charges," said Stephen Hess of the non-partisan Brookings Institute. "So they're going to have to be met and dealt with and voted upon. They can't be swept under the table."
Some of the issues facing Rangel:
In 2008 Rangel revealed that he failed to disclose and pay taxes on $75,000 that he earned renting out his beach house in the Dominican Republic.
He admitted that he didn't report more than $250,000 in assets on federal disclosure forms for 2007.
In November of 2008 The New York Times ran an article claiming Congressional records and interviews indicated he was "instrumental" in keeping a tax loophole that helped an oil-drilling company "while at the same time its chief executive was pledging $1 million to a Rangel project at the City College of New York."

He has vehemently denied that allegation. On the other issues, Rangel has claimed in the past that he never meant to conceal financial reports that later came to light.
Nonetheless, Democratic strategist and CNN contributor James Carville said the controversy and ethics investigation could have an effect on the political future of not only Rangel but also the Democratic Party.
Rangel should "take all of this ethical stuff dead seriously," he said. "This thing, it has a bad odor to it."

Watch more on the controversy surrounding Rangel »
Carville warned if Democrats don't take the allegations against Rangel seriously, "then we're going to have a tough 2010, no matter what."
On the other hand, Hess said the general feeling about Congress is "another day, another scandal." But despite Congress' notoriously low approval ratings among the public, it's Rangel's influential position that could sway voters.
Don't Miss
"And you are not going to sweep it under the rug if you have an opportunity to remind people through the media and otherwise that a very powerful Democrat is being viewed right now for some questions of serious tax consequence when, in fact, he is the chairman of the tax writing committee."
Republicans, meanwhile, have been trying to remove Rangel as chairman.
On Thursday, the House Committee on Standards of Official Conduct announced it had voted unanimously to expand the scope of its investigation into Rangel's activities.
GOP Rep. Darrell Issa, a ranking member of the House Committee on Oversight and Government Reform said in a statement: "If you don't drain the swamp, you'll end up with a lake. This isn't an isolated incident -- it's a pattern of behavior."
"If the chairman of the committee charged with writing our tax laws didn't know he should be reporting assets and income received from property and rent, then he's criminally negligent," he said. "If he did know it and failed to do so anyway, then he's just plain criminal."
House Minority Leader John Boehner, R-Ohio, called on Democratic leadership in the House to take action.
"Given the expanded investigation announced today, it is past time for [House] Speaker [Nancy] Pelosi to insist that Chairman Rangel step aside until the Ethics Committee completes its work," he said in a news release. "The American people won't stand for having a chairman of the House's tax-writing committee who is under investigation for not paying his taxes."
Just a day before, Rep. John Carter, R-Texas, introduced a motion that would have forced Rangel to step down during an ongoing ethics investigation.
"Rep. Rangel acknowledged a failure to publicly disclose at least half a million dollars in cash assets, tens of thousands of dollars in investment income and his ownership of two pieces of property in New Jersey," Carter said.
Democrats responded by voting to shut off debate and instead send the resolution to the House Ethics Committee, where the matter has sat for a year. The move to effectively kill the resolution by sending it to the committee passed on a mostly party-line 246-153 vote.
Rangel, meanwhile, continues to defend his post on the committee that is instrumental in drafting legislation on important issues such as health care reform and climate change.
Rangel has said he is the victim of a smear campaign by some in the media. He told CNN Wednesday that chairmen usually retain their posts when under an ethics investigation.
When asked if the probe affects his abilities to lead the committee, he said, "Not at all."
Rangel also has backing from top Democrats.
When asked if she stands by Rangel, Pelosi told CNN Wednesday that she stands by him as committee chairman.
"He is one of the most experienced knowledgeable people in the Congress about health care," Pelosi said. "But even if he weren't, the process here is that the ethics committee reviews the situation and then they make their statement on it, so I think it would be unfair to him to say he should step aside because you're under review."
House Majority Leader Steny Hoyer said Wednesday that Democrats are awaiting the ethics committee's findings.
"We will await their report. Prior to that any actions with reference to Chairman Rangel would be premature."

But Republican strategist and CNN contributor Ed Rollins warned Democrats that any finding coming from the ethics investigation must be dealt with appropriately.
"I'm more than willing to let the ethics committee come forward with their hearing, but they better act on it. If it's a serious charge, which obviously, all I know is what I've read in the newspaper, the chairman of the ways and means committee has to be held to a higher standard."
E-mail to a friend

CNN's Dana Bash, Lisa Dejardins, Brianna Keilar and Deirdre Walsh contributed to this report.
All About Charles Rangel • U.S. House Committee on Ways and Means