By Alexander Mooney
CNN





(CNN) -- Could a little-known freshman Democrat from a conservative-leaning Florida district be just what the doctor ordered for liberals wary of what they view as a timid president too ready to compromise on overhauling health care?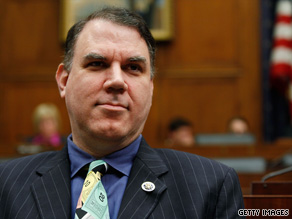 Rep. Alan Grayson, D-Florida, attracted attention for a tirade in the House against the GOP's health care plan.
A little more than a week ago, few Americans had heard of Rep. Alan Grayson, who represents the Orlando area, and more than a handful of his congressional colleagues may not have been able to pick the 6-foot-4, 51-year-old out of a lineup.
But that was before the combative Bronx-born congressman and Harvard-educated lawyer took to the floor of the House of Representatives last week, shocking the few Republicans within earshot when he dramatically declared the GOP health care plan is "Don't get sick, and if you do get sick, die quickly."
The after-hours tirade quickly made the rounds online and on television the next morning, energizing Republicans and Democrats alike -- many of whom from both parties appear eager to keep the rhetoric surrounding the health care debate at a fever pitch.

Watch the congressman on the House floor »
For Republicans, Grayson was the long-sought answer to Rep. Joe Wilson, the South Carolina Republican who yelled "You lie" to President Obama last month and faced a torrent of Democratic criticism for breaching congressional protocol and basic principles of human decency.
But many Democrats so outwardly critical of Wilson's behavior quickly rallied to Grayson's side, seemingly thrilled a Democrat finally had showed a level of brazenness that's long been more characteristic of those on the other side of aisle.
"People want to see a congressman with guts," Grayson told CNN. "And America likes to hear the truth."
But for liberals, many of whom say they feel their party is all too willing to roll over amid GOP attacks, it wasn't just Grayson's initial comments that drew acclaim but also the Florida Democrat's hardhearted refusal to recant his statements in the face of Republican criticism.
After all, following GOP calls for an apology -- along with a threat of a congressional resolution condemning the remarks -- Grayson returned to the House floor to apologize instead to the "dead."
"What happened was his floor speech and the fact that he didn't back down set a new standard for how Democrats deal with Republican hissy fits," said David Dayen, a liberal blogger who often writes on the Daily Kos Web site. "He's been a hero to Democrats since his term started, but now he's a hero on health care."
To be sure, Grayson already had shown he was a different kind of freshman congressman before the "die quickly" speech, having forcefully taken Federal Reserve Chairman Ben Bernanke to task in what was an instant YouTube moment at a House Committee hearing less than a month into the job.
He also held up a vote on global warming legislation until he secured a $50 million hurricane research center in his district -- a move more characteristic of the chamber's longtime lawmakers. And he's won liberal support for his steadfast support of ACORN, even as many Democrats voted to defund the community organizing group, and for his forceful anti-war stance.
But it was the late-night diatribe last week -- presumably seen by no more than a few dozen C-SPAN viewers before going viral -- that netted Grayson more than $500,000 from 5,000 donors around the country. It's also garnered a media tour worthy of a national celebrity peddling a tell-all book, appearing on a bevy of cable and national news programs to amplify his attacks on Republicans.
Grayson appears to be reveling in the newfound political celebrity, having sent a string of fundraising e-mails in recent days with one proclaiming "in a town where everyone can only tell lies, he's just invented the truth."
No doubt recognizing his popularity among the Democratic base, neither House Speaker Nancy Pelosi nor the White House was willing to call the comments over the line, instead advocating for a more conciliatory tone in general from both parties.
Meanwhile, the few Democratic commentators who did say Grayson's actions were beyond the pale risked a backlash from liberal readers hungering for a fight after a summer in which the health care debate appeared to be dominated by loud opponents on the right.
"I'm in trouble with some of my readers for not lionizing Alan Grayson, [because I am] a person who has said, 'I would like to bring facts back to this debate' and who has criticized the death panel rhetoric,' " said Joan Walsh, editor in chief of Salon.com.
But Grayson's bona fide heroic status with the left isn't likely to play well back in Florida's 8th Congressional District, a jagged swath of the Sunshine State that includes Orlando and cuts through some of its northern suburbs.
The district tilts toward the GOP, but with the help of Obama's coattails and his own deep pockets, Grayson narrowly unseated a four-term Republican in 2008.
Florida Republicans, who already were eager to reclaim the seat, see their window open wide now that Grayson has become a liberal icon.
"We are positive he's going to lose; we are going to trounce him," said Lew Oliver, Republican Party chairman in Orange County, where Grayson's district lies. Oliver made his comments to the Southern Florida Political Report on Tuesday.

A small problem: No one's lined up to take on Grayson yet. But that doesn't seem to worry Oliver.
"A random Republican off the street could beat him," he said.
E-mail to a friend

All About Health Care Issues • Democratic Party • Florida