By Rachel Streitfeld
CNN





SILVER SPRING, Maryland (CNN) -- For three months, Phyllis Ross watched her husband waste away in his hospital bed and succumb to pancreatic cancer.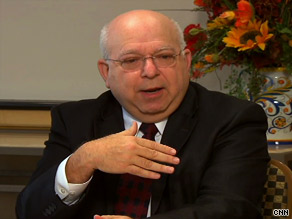 Financing health care reform is a concern for Phil Marks, 60, who doesn't want his grandchildren stuck with the bill.
Even in his final days, doctors were discussing treatment options instead of broaching end-of-life counseling.
"No one came to advise us about palliative care. No one talked about hospice," Ross, 70, said. "Instead he was down to 80 pounds and a carrot was still being dangled, 'Oh he can go to rehab afterwards.'"
End-of-life counseling, the controversial medical consultation process that emerged at the center of the health care town hall meetings this summer, is just one issue Ross wishes Washington would roll into a health care overhaul.
Ross, who lives in a retirement community in Maryland, is a staunch supporter of health care reform.
"Everyone should have health coverage," she said. "They should not have to wait until they're incredibly ill and go to an emergency room, when it's really too late."
But Ross is not in the mainstream when it comes to the attitudes of seniors toward health care reform.
The powerful voting bloc of persons older than 65, which John McCain won over in last year's presidential election, has been slow to warm to health care reform proposals.
Don't Miss
Fifty-four percent of people older than 65 oppose the president's health care plan, compared to 41 percent of those younger than 50, according to a CNN/Opinion Research poll from Sept. 11-13.
Vice President Joe Biden reached out to the over-65 group in September on a visit to Leisure World, a sprawling community of about 9,000 seniors in suburban Maryland where Ross lives. He sought to reassure seniors about one of their chief concerns.
"No one is going to mess with your benefits. No one," Biden said. "All we do is make it better for people on Medicare."
Bob Stromberg, 84, sat in the audience for Biden's speech and said he still has some concerns about reform proposals.
He worries there won't be enough doctors and nurses to go around if the government rapidly expands health coverage. He's also looking for some limits on medical malpractice lawsuits.
"That's just completely out of control. There should be some limit on this," Stromberg said. "And I don't see any effort by the administration to push for some sort of a limit."
But Stromberg said he's willing to make some sacrifices so people without insurance could be covered.
"We're willing to give up something, and I think many seniors are," he said. "Not too much. I don't know how, I don't know what. But I think we're willing to give up something."
Financing any reform is a concern for Phil Marks, 60, who doesn't want his grandchildren to be stuck with the bill for overhauling the system. But he says right now everybody is sharing the costs of emergency room visits for people without insurance.
"We're all paying for that now, in one form or another, either through higher insurance costs or through taxes or when we give to some charities that provide subsidies," Marks said. "We're not getting a lot of value for our money because these folks are being treated for conditions that have gotten to the point where they need to go (to the hospital)."
He's hopeful any bill passed will include more emphasis on preventive care. But he worries politics may end up dooming any kind of reform, or persuade politicians to water down the legislation until it's ineffective.
"The longer the debate goes on, in my view, the prognosis gets worse for significant change," Marks said. "I think a bill will come out of it. It will allow everybody to claim victory, but what kind of meaningful impact it'll have, I'm not particularly optimistic."
E-mail to a friend

All About Health Care Reform • Aging and the Elderly