WASHINGTON (CNN) -- A key congressional committee vote on health care reform, originally expected as early as Tuesday, is now likely to be pushed back several days, according to two Democratic staffers.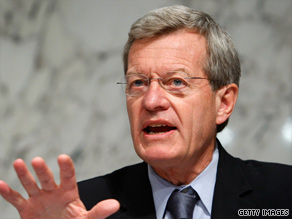 Sen. Max Baucus has spent months working on a health care bill with others on the Senate Finance Committee.
The long-awaited vote in the Senate Finance Committee has been delayed in order to allow nonpartisan budget analysts to "score" the nearly $900 billion bill, or make sure its cost and revenue estimates are accurate.
The committee is expected to vote shortly after receiving the Congressional Budget Office analysis. While the vote could come by Friday, it may also be pushed back into next week, the staffers said.
The bill was drafted by committee chairman Sen. Max Baucus, D-Montana, after months of negotiations with five other panel members -- three Republicans and two Democrats -- and represents the only proposal so far with the potential to attract any Republican support.
Another Senate committee and three House committees have passed Democratic health care plans rejected by Republicans. After the Senate Finance Committee votes on its measure, the Democratic leadership in each chamber will meld together single, separate proposals for floor debate in coming weeks.
Don't Miss
If both the House and Senate pass their respective versions, a conference committee would then negotiate a final version that would require approval from both chambers before going to President Obama for his signature.
Obama has made health care reform his top domestic priority this year. He and Democratic leaders want the bill to include a government-run public health insurance option as one choice for consumers currently unable or unwilling to obtain coverage. Republicans unanimously oppose such a plan.
Of the five proposals in Congress, only the Baucus plan lacks a public option. Instead, it would allow non-profit health care cooperatives that negotiate collective coverage for members to compete with private insurers to bring down costs for low- and middle-income Americans.
E-mail to a friend

CNN's Ted Barrett contributed to this report.
All About Health Care Policy • U.S. Senate • Barack Obama • Max Baucus