WASHINGTON (CNN) -- President Obama kicked off a crucial week in the health care reform debate Monday by castigating political opponents for spreading distortions about his plan.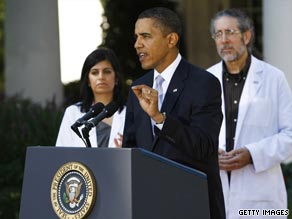 President Obama made his most recent appeal for health care reform during an appearance with doctors.
The president made his remarks during a White House appearance with doctors from all 50 states. His latest public appeal came shortly before a key congressional committee is expected to vote on its version of health care reform legislation and set the stage for heated debates in the full House and Senate.
"At this point we've heard all the arguments on both sides of the aisle," Obama said. He ripped opponents for pushing "crazy claims about death panels" and "misleading warnings" about an impending government takeover of the health care system.
Doctors wouldn't support a reform agenda if they believed it would lead to government interference in the doctor-patient relationship, Obama said.
"When you cut through all the noise and all the distractions that are out there, I think what's most telling is that some of the people who are most supportive of reform are the very medical professionals who know the health care system best: the doctors and nurses of America," he said.
The White House has made a concerted effort to win the support of doctors in the health care debate. Earlier this year, the powerful American Medical Association, the country's largest physician organization, came out in support of passage of reform legislation.
The AMA was courted in part through a promise to reverse more than $200 billion in Medicare payment cuts to doctors over the next decade. But the organization has reflected deep divisions in the medical profession by joining conservatives in refusing to back Obama's call for a government-funded public health insurance option. Many doctors consider it a threat to consumer choice and the current private insurance-based system.
The Senate Finance Committee, which is widely expected to clear health care reform legislation this week, has so far rejected a public health care insurance option. Four other congressional committees, including three in the House of Representatives, have approved it.
Finance Committee Chairman Max Baucus, D-Montana, has said there is not enough support in the Senate to pass such a provision.
Some more liberal physicians, including Obama's former Chicago, Illinois, doctor, argue the president's plan doesn't go far enough. Dr. David Scheiner, who was Obama's personal physician for 22 years, and others have expressed a desire to see the nation adopt a single-payer system like the ones in Canada and Europe.
Such a financing system relies on one "payer" -- which could be a government-run agency -- to fund all health care costs billed by doctors, hospitals and other health professionals.
During last year's presidential campaign, Obama said he'd probably support such an idea if he were "designing a system from scratch." But given current circumstances, he said, the concept is not practical in the United States.
E-mail to a friend

All About Health Care Reform