WASHINGTON (CNN) -- There is no immediate danger of Afghanistan falling to the Taliban, National Security Adviser James Jones said Sunday.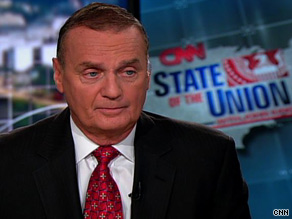 National Security Adviser James Jones called for building up Afghanistan's police and military forces.
"I don't foresee the return of the Taliban," Jones said on CNN's "State of the Union." "And I want to be very clear that Afghanistan is not in danger -- imminent danger -- of falling."
President Obama is overseeing a review of U.S. strategy in Afghanistan, with his top general in that country, some other military leaders and opposition Republicans pressing him to act quickly to increase the present 68,000-troop level by up to 40,000 troops.
"This is a strategic moment," Jones, a retired Marine Corps general, said of the review that included a three-hour meeting of top Cabinet officials, generals and other advisers last week. Additional meetings are planned for the coming week.
In March, Obama announced a plan to send more than 20,000 additional troops to Afghanistan to provide security for a national election. That followed what Obama and others call years of under-resourcing in Afghanistan due to the previous administration's focus on Iraq.
The Obama strategy was based on a counterinsurgency mission intended to both defeat terrorists based in Afghanistan while winning local support and helping with development.
Gen. Stanley McChrystal, who took over as the top U.S. commander in Afghanistan four months ago, has submitted an assessment in which he reportedly says he needs additional forces to successfully carry out the counterinsurgency strategy. Otherwise, McChrystal reportedly warns, the mission could fail, bringing a return of power to the Taliban.
Don't Miss
Obama has yet to respond to McChrystal's report, prompting opponents to accuse him of indecisiveness and playing politics that put U.S. troops at risk.
Eight American troops and two Afghan security force members were killed Saturday when militants opened fire on an outpost with rockets, mortars and heavy-caliber machine guns, according to an initial U.S. military report on the battle.

Watch how hundreds of militants attacked outpost »
It was the largest number of Americans killed by hostile action in a single day in Afghanistan since July 13, 2008, according to CNN records.
Republicans said Sunday that Obama needs to quickly agree to McChrystal's request to salvage the mission.

Watch two senators talk about possibility of sending more troops »
"If we don't add more troops, you're going to see more of what happened yesterday," Sen. Lindsey Graham, R-South Carolina, said on "Fox News Sunday." "The security situation's going to get worse. And any hope of better governance is lost, and the Taliban will re-emerge."
Jones, on the CNN program, cited three developments since March that led the White House to reconsider its overall Afghanistan strategy: questions about the legitimacy of President Hamid Karzai's election victory; the conclusion by McChrystal that the Taliban is stronger than previously thought; and neighboring Pakistan's improved efforts to change the overall dynamic of the border region.
"The key in Afghanistan is to have a triad of things happen simultaneously," Jones said, listing improved security, economic development and "good governance and the rule of law."
He said the Karzai government "is going to have to pitch in and do much better than they have" to improve the governance situation after elections widely considered tainted by vote fraud in some areas.
Both Jones and Democratic Sen. Carl Levin of Michigan, the chairman of the Senate Armed Services Committee, called for building up Afghanistan's police and military forces as part of overall U.S. strategy.
Levin, speaking on the CBS program "Face the Nation," and Jones said the strategy review would provide Obama with options for how to proceed.
"In the coming weeks, we will have vigorous debates. There will be alternative views presented and I'm quite sure we'll come up with the right solution," Jones said.
Some in Obama's inner circle, including Vice President Joe Biden, are advocating a counterterrorism approach that focuses on combating al Qaeda through the use of unmanned drones and special forces without involving additional troops.
Others, especially McChrystal, are advocating a broader counterinsurgency approach that would require a much larger U.S. military footprint in the country.
"If you send troops in, we'll have a second chance at governance," Graham said on the Fox program, adding: "What we have in place now is not going to work. Gen. McChrystal tells us that. He needs reinforcements. And I hope the president will send them and let us all work together for better governance, because the Taliban are going to win if we don't change course soon."

A senior U.S. military official familiar with McChrystal's thinking told CNN the general would have mentioned a counterterrorism approach in his assessment if he thought it was viable. According to the official, McChrystal has been consistent in interviews that he thinks a fully resourced counterinsurgency strategy is the proper approach.
"He does not support a counterterrorism strategy," the official said. "He believes counterinsurgency is the best solution."
E-mail to a friend

CNN's Martina Stewart contributed to this report.
All About The Taliban • Afghanistan • James L. Jones • Stanley McChrystal