By
John King
CNN Chief National Correspondent





Editor's note: On CNN's "State of the Union," host and chief national correspondent John King goes outside the Beltway to report on issues affecting communities across the country.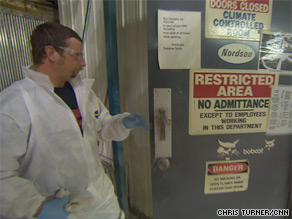 Even though he works in sometimes-stifling conditions, Corey Essig is happy to be back on the job.
GWINNER, North Dakota (CNN) -- Corey Essig is happily back on the upside of the recession roller coaster. But his lesson on the tough math of unemployment remains fresh.
A wife. Two young children. A mortgage. Health insurance. Food and fuel. And when he was laid off from the Bobcat assembly line five months ago, a weekly unemployment check of $351.
"It gets pretty trying," is how Essig put it.
His youngest son has a heart condition, so he had no choice but to sign up for the COBRA health care coverage offered to those who lose their jobs.
It was $440 a month, just for the insurance.
"You have to cut down on stuff," Essig said of his experience on unemployment, and then later with a job he was able to find that still paid considerably less than Bobcat. "Like your cell phone. Your computers. You start turning some of that stuff off. Buying less food."
Now, things are looking up again. Essig was just called back to work, on the second shift in the Bobcat paint room. It requires him to put on a hooded safety suit that looks like a bit like an astronaut taking a spacewalk. It is hard work, often in stifling conditions, but Essig isn't about to complain.
"It feels good to be back to work," he says.
Gwinner lives and breathes Bobcat. A tiny town of about 700 people, the Bobcat presence is felt everywhere. The trademark logo is on the town water tower. The sports teams are often the "Bobcats." One of the company's small excavators rests on a pole at the town's main intersection -- a trophy of the town's major export and major employer.
'State of the Union'
CNN's John King reinvents Sunday talk: more time for more politics.
Sunday, 9 a.m. ET

North Dakota has the nation's lowest unemployment rate. Agriculture is its backbone, and another factor shielding it from much of the national recession's pain is that there was never a giant escalation in home values or an explosion of subprime mortgages.
But shielded does not mean immune, and layoffs at Bobcat and other companies made for a tougher summer.
Things are now looking up for Gwinner, even if the reasons leave many a tad nervous.
Bobcat recently announced it is shuttering its assembly line in Bismarck and will move some of that production to Gwinner.
Rich Goldsbury, the company's North American president, said it was a tough choice but born of evidence the housing market on which Bobcat is so dependent will be slow to recover.
He offers the analogy of having one load of wash and two washing machines. With only enough clothes for one load, "it doesn't make any sense to start ... two washing machines." And with only so many orders, Bobcat has decided to consolidate to one assembly line.
"We've seen it bottoming out, but we haven't seen any evidence of a return to where we were just two years ago," Goldsbury said after taking us on a tour of the Gwinner assembly line. "Two million housing starts down to 500,000. Our business, for our industry, it is down about 70 percent from what it was in 2005."
There are some hopeful signs.
Bobcat generally sells one or two machines at a time to small landscaping and housing contractors. Months ago, many couldn't arrange financing because of the credit crunch.
"Now you can get financing for a machine," Goldsbury said. "But we haven't seen that translate into additional sales for us."
So by January, when the consolidation is completed, Bobcat expects to have 1,500 jobs in North Dakota, all but 300 of those here in Gwinner. That will be down 100 from current employment levels, and down 1,100 from the company's North Dakota peak of 2,600 jobs four years ago.
"We are dealing with a market change we need to address," Goldsbury said. "Good companies, and we've been here 60 years, have to adapt to that."
A lot had changed in the 60 years since the Melroe Manufacturing Co. was founded here. One of the original red models sits in a factory building alongside two more familiar white and orange Bobcat skid-steer loaders.
The two logos on the façade of the main office signal another change: Two years ago, the company was purchased by Doosan, a South Korean manufacturer.
It is that foreign ownership that from time to time contributes to rumors the company might be moving. The past two years, as housing in the United States slumped, there also have been waves or rumors about layoffs or temporary shutdowns, many of them wrong, but some of them on target.
If there are jitters on the factory floor, they show up quickly in the bottom line at Teal's, a supermarket a stone's throw from the Bobcat factory. Store manager Jeremiah Hinkemeyer says he knows even before the workers make it to the aisles to shop.
"You see it in the faces," Hinkemeyer told us. "If there's been talk of layoffs or, you know, the company might not be staying around. People take these emotions on, because you know it is their lives. It's all they've ever known. You know a lot of people graduated from high school and went to work at Bobcat and they've worked there their entire life."
Hinkemeyer refers to the town as "Bobcat Nation" and voices optimism the consolidation will help the company in the long run.
"I personally believe that Bobcat's trying everything they can to do what they can to keep jobs here," Hinkemeyer said. "I'm satisfied that they're really trying to stay here, but I think you feel from a lot of people they are not sure yet -- they haven't seen the evidence."
Essig, just back at work, hears the rumors all the time. But he is optimistic.
"Everything is looking pretty good now," Essig says. "I don't see them moving the company, but you never know. It could happen, but I don't foresee it."

Neither does Goldsbury, who as company president is the bridge between the workers and the overseas ownership.
"We are this state's largest manufacturer," Goldsbury said. "We've been here for 60 years. I don't see us going anyplace. This is where we came from."

E-mail to a friend

All About Unemployment Rate • North Dakota • Housing Starts