From Ed Henry and Barbara Starr
CNN





WASHINGTON (CNN) -- Defense Secretary Robert Gates is leaning toward the view that a significant number of additional combat forces will be needed for the war in Afghanistan, sources tell CNN.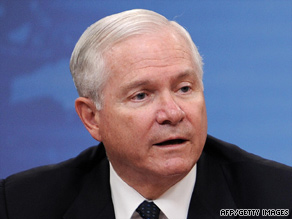 Defense Secretary Robert Gates is inclined to back the top commander in Afghanistan, officials told CNN.
Gates is inclined to back Gen. Stanley McChrystal, the top commander in Afghanistan, in pursuing a counterinsurgency strategy, defense and administration officials said Thursday.
Both officials stressed that Gates does not necessarily support sending all the additional forces McChrystal would want, which sources have said could be as many as 40,000 troops.
But they said Gates will likely agree with Joint Chiefs of Staff Chairman Michael Mullen, who told Congress last week that he expects more troops will be needed.
Another senior military official separately told CNN any final strategy Gates endorses may not be solely a counterinsurgency plan.

Watch a senator spell out the issue »
President Obama met for 25 minutes Friday with McChrystal aboard Air Force One in Copenhagen, Denmark, according to reporters traveling with the president.
The president wanted to continue the conversation with McChrystal that began Wednesday with a three-hour meeting with his national security team in the White House Situation Room, White House officials said
Don't Miss
White House spokesman Robert Gibbs described the discussion as "robust," with the president hearing from 17 different people.
"We had an opportunity to get a fairly in-depth intelligence assessment on what's going on in Afghanistan and Pakistan, and to assess individually where we are in each and what's changed since March" when the president decided to send an additional 21,000 troops, Gibbs said.
One senior administration official who attended said the discussions ran the gamut of scenarios. The source did not want to be identified because he was not authorized to speak on the record about the meeting.
There was not a lot of "sniping," the source said, describing it as a "good meeting."
The source said different strategies were aired and participants were able to "shine some daylight" on different plans' assumptions and viability.
Vice President Joe Biden's suggestion to pull back from a counterinsurgency strategy of protecting the Afghan population and instead focus on using drones to go after al Qaeda was scrutinized, the source said. Opponents explained their opposition to that strategy, while proponents detailed their support. It was illuminating to see that it was not quite so simple to just pull back and send drones, said the source.
McChrystal and others explained their counterinsurgency strategy and answered questions about how additional troops might change the mission and where those additional numbers might be found.
In addition, several sources said Secretary of State Hillary Clinton said she was concerned with having enough troops present in Afghanistan to support the Obama administration's civilian efforts, suggesting she may be leaning toward more additional troops as well. But, the sources said, Clinton made clear that she favors a more detailed examination of the mission before a decision on troop levels is made.
In London on Thursday, McChrystal said he believes the situation in Afghanistan is "serious" and "deteriorating." McChrystal suggested that focusing on al Qaeda would not be enough.
"I absolutely believe that al Qaeda and the threat of al Qaeda and Taliban senior leadership are critical to stability in the region," McChrystal said in a speech to London's International Institute for Strategic Studies. "But I also believe that a strategy that does not leave Afghanistan in a stable position is probably a shortsighted strategy."

Gen. David Petraeus, who as head of U.S. Central Command will make the final military decision on McChrystal's request, said that the strategy is being reassessed and no decision on additional troops has been made.
"I have not yet endorsed the resources" requested by McChrystal, Petraeus said while speaking at an event in Washington.
E-mail to a friend

CNN's Elise Labott and Adam Levine contributed to this report.
All About Afghanistan War • Robert Gates • Al Qaeda • David Petraeus