By Jim Kavanagh
CNN





(CNN) -- Greg Zaffke II's mother, Anita, was killed in May when a car struck her motorcycle at a stoplight, he said.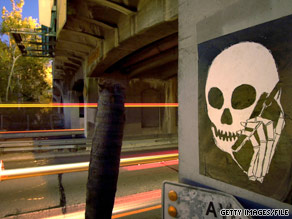 A graffiti image gets the message across on a Los Angeles, California, underpass.
"The driver behind her that rear-ended her at 50 miles per hour admitted afterward to painting her nails while driving. There was also reportedly nail polish all over the air bag," he told 250 officials gathered in Washington this week for a two-day conference on distracted drivers, hosted by the U.S. Department of Transportation.
"I'll forever have nightmares about the last moments of my mother's life," said Zaffke of Waukegan, Illinois.
Jennifer Smith of Grapevine, Texas, lost her mother, Linda Doyle, when a driver hit her car squarely in the side, she said.
"He never saw the red light, he never saw all the other cars already stopped at the light, he never saw my mother's car until it was too late, he never even tried to brake," Smith testified.
"The first thing the driver did admit when he got out of the car was that he was talking on his cell phone. He was not texting, he was not dialing, he was not looking for his phone, he was having a conversation."
Nearly 6,000 people died in 2008 in crashes involving a distracted or inattentive driver, and more than half a million were injured, according to the National Highway Traffic Safety Administration. Eighty percent of crashes are related to driver inattention, according to a Virginia Tech study, and drivers that use handheld devices are four times as likely to get into crashes serious enough to injure themselves, the National Safety Council reports.

Watch who else distracted driving has hurt »
Stories like these have gotten Washington's attention, prompting Transportation Secretary Ray LaHood to organize the meeting and Sen. Chuck Schumer, D-New York, to introduce legislation.
"We need public awareness, we need personal responsibility, we probably need some good laws, we need help from Congress, we need help from the advocacy groups that gathered here," LaHood said Wednesday night on CNN.
Schumer's bill, introduced in July and awaiting action in the Senate Committee on Environment and Public Works, would reduce federal highway funding for states that fail to enact bans on texting while driving, including public transit.
At LaHood's conference on Wednesday, Schumer urged the Obama administration to support his bill and include strong penalties.
"A federal law that does not impose penalties for failing to act would be toothless. It would fall well short of curbing this dangerous epidemic. It would hardly be any better than no law at all," Schumer said at the conference.
"Texting while driving -- if we don't address it now, it's going to become a huge issue," National Safety Council member Dave Teater of Spring Lake, Michigan, said on CNN. "The kids who are learning to drive right now, today, text 5,000 times a month, [according to] some of the numbers we're seeing. They're addicted to texting."
But Teater's focus isn't only on texting. He said that his son Joseph, 12, was killed in 2004 when a Hummer ran a red light and hit the Chevy Suburban his son was riding in.
"A young lady who was talking on her cell phone, looking straight out the windshield -- we know this because the people in the cars and the school bus saw her -- blew by the cars and the school bus, didn't see the red light, didn't see them, didn't see the vehicles crossing directly in front of her and hit our vehicle at 48 miles an hour. Never touched her brakes, according to the crash recorder on her vehicle," he said. "That's the power of the distraction associated with a phone call."
LaHood said his department and the conference were intent on addressing all types of driver distraction.
"Safety is our No. 1 priority at DOT, and we're going to coordinate these efforts along with a lot of other people," he said.
Even when a distracted-driving accident doesn't cause death, it can change a person's life, witness Cheryl Adams of Washington told the conference. She was struck by a car and pinned against a lamppost while walking for her health, she said.
"I've undergone hundreds of hours of physical therapy, and each time I've focused on my disfigured leg, I am reminded of the dangers of distracted driving behavior," she said in urging strong penalties. "...The punishment for the driver who caused me to suffer physically, psychologically and financially was merely a ticket."

Zaffke, whose mother was killed a week before Mother's Day, summed up the issue in stark words:
"Distracted drivers destroy lives."
E-mail to a friend

All About Automotive Safety • Cellular Phones • U.S. Department of Transportation • Charles Schumer