WASHINGTON (CNN) -- Republican amendments that Democrats said would broaden current restrictions on federal funding for abortion were defeated Wednesday by a Senate committee considering the only compromise health care bill so far.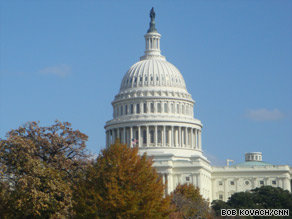 Members of the Senate Finance Committee shot down Republican Sen. Orrin Hatch's amendments.
By identical 13-10 votes, the Senate Finance Committee defeated the amendments by Republican Sen. Orrin Hatch of Utah.
In both votes, all but one Democrat on the panel, Sen. Kent Conrad of North Dakota, voted against the amendments. All Republicans except for Sen. Olympia Snowe of Maine, the only women among the GOP committee members, supported them.
In a statement issued after the votes, Hatch said he was disappointed but would continue pushing the issue when the bill comes to the full Senate.
"Although these two very important amendments fell short today, you can rest assured that I will continue to fight for these vital issues," Hatch said.
The first amendment would have stated explicitly that the current ban on federal funding for abortions except in the cases of rape, incest or danger to the mother's health would apply to all aspects of health insurance in the bill.
Both Snowe and Democratic Sen. Debbie Stabenow of Michigan challenged the amendment, saying it would amount to a new restriction on abortion rights in which women with private health insurance would have to purchase supplemental coverage for abortions.
Stabenow called the amendment an attempt to add "unprecedented" restrictions on what people can buy in the private insurance market. Snowe noted that because "most aborted pregnancies were unplanned," it is highly unlikely supplemental health coverage for abortions would have been obtained in advance.
Committee Chairman Sen. Max Baucus, D-Montana, also called the amendment an expanded restriction that discriminated against women by requiring them to purchase supplemental coverage for abortions. Baucus noted he included language in the proposal to ensure that no federal funds could be used for abortion under the bill.
Hatch said the complex health insurance system made it difficult to prevent federal money from paying for abortions, and he wanted a blanket provision to cover all possibilities. When a committee staff member noted to the panel that abortion costs can be segregated to prevent federal funds from covering them, Hatch responded: "You can't accomplish complete segregation of the funds."
Noting that many Americans "find it personally offensive to pay tax dollars that can be used to pay for abortions," Hatch said the amendment would have allowed individuals to pay for private abortion coverage "with their own money."
Hatch's second amendment sought to prohibit government at any level from forcing hospitals, doctors and other health care providers to provide abortions.
"I do not feel that any persons with deeply held religious or moral beliefs should be put in any situation where they would be forced to perform abortions," his statement said.
Later, the panel voted on straight partisan lines to reject a Republican amendment aimed at preventing the possibility illegal immigrants would get government-subsidized health insurance under the bill.
The amendment called for requiring participants to present a government-issued photo identification card. Sen. John Ensign, R-Nevada, said existing requirements for a Social Security number and other personal information lacked a verification mechanism.
"They may have a valid Social Security number, but it may be somebody else's Social Security number," Ensign said.
Democrats responded the amendment would have the unwanted affect of preventing valid citizens, such as low-income people who lack a government photo ID, from being able to participate.
The Finance Committee is the last congressional panel to consider health care legislation before debate begins in the full House and Senate.
E-mail to a friend

CNN's Dana Bash contributed to this story
All About Abortion • Health Care Policy