By Terry Frieden
CNN Justice Producer





WASHINGTON (CNN) -- As President Obama huddles with key military advisers to talk about a strategy in Afghanistan, top officials charged with protecting the homeland on Wednesday pointedly stressed the danger from terrorists in the Afghan-Pakistan border area.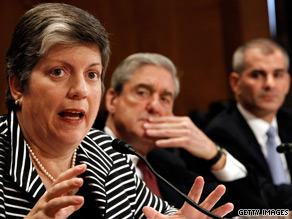 From left: Janet Napolitano, Robert Mueller and Michael Leiter testify before a Senate committee.
In Senate testimony, the officials said that despite recent arrests, they remain deeply worried about al Qaeda's intentions and plotting.
"My greatest concern still is the ability of al Qaeda to use western Pakistan and Afghanistan as sanctuary," FBI Director Robert Mueller told the Senate Homeland Security Committee. "If you look at the most serious case we have had recently, the Zazi case, it was the training in Pakistan that gave them the capability of undertaking the attack," Mueller said.
Homeland Security Secretary Janet Napolitano said she, too, was focused on the threat emanating from there.
"Homeland security begins in many instances abroad, and particularly what happens in Pakistan and Afghanistan is a source for many of the threat streams that ultimately we are spending resources on, and there is an impact here in the homeland," Napolitano told the panel.
The director of the National Counterterrorism Center agreed that recent successes against al Qaeda had put more pressure on the organization, but had not deterred al Qaeda's intent on attacking U.S. and Western interests.
"We assess that this [al Qaeda] core is actively engaged in operational plotting and continues recruiting, training and transporting operatives," said Mike Leiter, the center's director.
Don't Miss
Mueller said all the officials are concerned al Qaeda has made "a concerted effort" to recruit in Western countries, allowing them "to fly under the radar" through operatives free to travel more easily.
The Senate committee headed by Sen. Joe Lieberman, I-Connecticut, expressed unwavering support for the current counterterrorism efforts. Lieberman and the committee's ranking Republican, Sen. Susan Collins of Maine, praised the officials for the string of recent arrests of accused terrorists in New York; Colorado; Springfield, Illinois; Dallas, Texas; and North Carolina. When the senators asked what more they can do to help the officials, the FBI's Mueller had a ready answer.
"Renew the expiring provisions of the Patriot Act," he said.
The Senate is expected to debate later this year whether to reauthorize three of the several new powers granted to authorities in the immediate aftermath of the September 11, 2001, attacks.
E-mail to a friend

All About Janet Napolitano • Robert Mueller