From Ed Hornick
CNN






WASHINGTON (CNN) -- Two members of the Senate Finance Committee plan to put their Democratic colleagues on the spot on Tuesday by offering amendments on whether to give uninsured Americans the opportunity to join a government insurance program.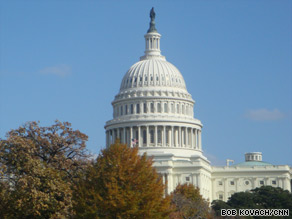 Democratic leaders in the House meet this week to hammer over health care reform issues.
While health care reform legislation in the House and an alternate plan in the Senate have included a so-called "public option," the Finance Committee's version, which Republicans haven't rejected completely, has not included a government-sponsored provision.
Sens. Jay Rockefeller of West Virginia and Chuck Schumer of New York planned to offer the amendments last week before the action was delayed.
It's not clear whether the two Democrats have the votes on the committee to get their amendments passed. But it is clear that the debate could be contentious, if last week's discussion was any indication, with Republican Sen. Jon Kyl of Arizona banging his fist on the table in an effort to be heard.
Some observers think it will take more action by President Obama to work with the Democratic leadership in Congress to hammer out these touchy issues in the coming weeks.
Liberal and progressive Democrats in the House have signaled a government-run public option is the primary way to rein in insurance companies so that uninsured Americans will be covered.
A public option would be a government-funded, government-run health care option, similar to Medicare. Under the plan, people would pay premiums 10 to 20 percent less than private insurance.
Various forms of the legislation proposed by Democrats have cleared three House committees as well as the Senate Health, Education, Labor and Pensions Committee.
The fiscally-minded "Blue Dog" Democrats in the House -- and conservative Democrats in the Senate -- are worried about estimates of how much the plans will cost.
House Democratic leaders plan a series of meetings on Tuesday to continue negotiations on merging the three House versions. House Speaker Nancy Pelosi said last week that the meetings are productive and a final House bill could come soon.
On discussions with the White House, one senior House Democratic congressional source said "they [the White House] are being informed on the discussions. They're in contact quite a bit."
House Democratic leaders and key committee chairmen met Friday to discuss how to cut about $200 billion in costs from the measure.
The Congressional Budget Office estimated that the House bill would cost $1.1 trillion over 10 years, but Obama told Congress he wants a bill that costs $900 billion.
Democrats -- the majority in Congress -- are looking at adding a tax on insurers as a way to reduce the overall price tag of their health care bill.
The Senate Finance Committee is the last of five committees needed to approve health care proposals before the topic can be taken up by both the full Senate and the full House.
Democratic Sen. Max Baucus, the committee chairman, who recently unveiled his proposal, has said his bill comes in at $900 billion.
It would require all Americans to have health insurance but lacks a government-run public health insurance option and has proposed using health care co-operatives.
Rockefeller has signaled he will not support Baucus' bill as it stands.
Julius Hobson, a senior policy adviser at international law firm Bryan Cave LLP, said the ultimate question is whether public option supporters on the committee will vote for a bill that fails to include their policy recommendations.
"The progressives in the Democratic Party in Congress hold the key to enactment of any type of health reform legislation," said Hobson, a former director of congressional affairs for the American Medical Association.
Baucus offered his plan after months of negotiations with three Republicans and two other Democrats on the committee, labeled the Gang of Six. However, none of the three Republicans in the negotiating group has backed the Baucus proposal yet.
Republican Sen. Olympia Snowe, a moderate from Maine, has indicated that she could go along with a Democratic bill if changes are made.
But as Republicans remain in lock step against the health care plans being offered, the Democratic leadership is aimed at bringing liberals, progressives and conservatives in their party together in order for a bill to be passed this year.
John Breaux, a former Democratic Senate deputy majority whip, said that can be achieved by the Democratic leadership and Obama starting with centrist issues -- including costs -- and then working to include proposals by more liberal members.
"The fact is you cannot solve problems from the far left or the far right," he said. "You have to start at the center and work your way out."
Breaux added that it likely leaves the far left and far right "off the ship, but that's the better way, I think, to solve America's problems particularly in health care today."

Watch more on the health care debate »
And Democrats -- along with Republicans -- are getting advice from someone who knows all too well about the challenges of reforming health care.
"I think we both have to come together, and we have to solve health care," said former Health and Human Services Secretary Tommy Thompson. "And we can do that. We can come together on a bipartisan basis.
But Thompson, who now consults on health care issues, said bipartisanship will be next to impossible if a public option is included.
"The public option really is sort of a poison pill, and it's not going to happen with public option," he said.
Democratic Sen. Evan Bayh of Indiana said it's "unlikely" for a Senate bill to have broad bipartisan support.

In broader terms, the big task for Senate Majority Leader Harry Reid is to get 60 votes in the Senate in order to block a Republican filibuster. But Reid could also implement a legislative option known as reconciliation, which would only require 51 senators.
Sen. Bob Corker, R-Tennessee, said that option would "rip our country apart in many way and is shortsighted."

Watch the GOP's response to health care reform »
E-mail to a friend

CNN congressional producer Deirdre Walsh contributed to this report.
All About Democratic Party • Health Care Costs • Republican Party