(CNN) -- William Safire, a onetime speechwriter for President Nixon who became a Pulitzer Prize-winning columnist for The New York Times, has died at age 79, the newspaper announced Sunday.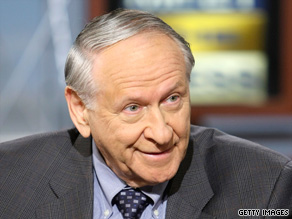 William Safire died in Maryland following a battle with pancreatic cancer, The New York Times reported.
Safire joined the Times as a columnist in 1973. In addition to his conservative news columns, which he wrote until 2005, he wrote a language column for the paper's Sunday magazine from 1979 until shortly before his death.
He won the Pulitzer Prize for commentary in 1978. In 2006, President George W. Bush awarded him the Presidential Medal of Freedom, the highest U.S. civilian honor.
Safire had suffered from pancreatic cancer and died Sunday at a hospice in Rockville, Maryland, the newspaper reported.
Born in New York in 1929, Safire began his career as a reporter for newspapers, television and radio stations after dropping out of Syracuse University. After becoming a public relations executive in the late 1950s, he was credited with putting together the 1959 "kitchen debate" between then-Vice President Richard Nixon and Soviet leader Nikita Khrushchev at that year's American National Exhibition in Moscow.
Safire was the publicist for a builder at the time.
"What I was publicizing was the typical American house," he recounted during a conference at George Washington University in July. "It was my kitchen."
The next year, he went to work for Nixon's first, unsuccessful presidential bid. He rejoined the Nixon team in 1968, when the Republican eventually won the White House, and became one of the administration's top speechwriters.
Perhaps his best-known line in that job was Vice President Spiro Agnew's denunciation of journalists as "nattering nabobs of negativism." But Safire left the administration to join that nattering club in 1973, when he left the Nixon administration to join the Times.
His often-pugnacious voice -- he once denounced then-first lady Hillary Clinton as a "congenital liar" -- held down the right flank of the Times' op-ed page for more than three decades. He won his Pulitzer in 1978 for columns on the travails surrounding Bert Lance, who as President Carter's budget director in 1977 resigned amid allegations of bank fraud. Lance was acquitted by a federal jury in 1980.
And he was an outspoken advocate of the plight of Iraq's Kurdish population. He sharply criticized U.S. support for Iraqi strongman Saddam Hussein in the 1980s, when Hussein used poison gas to put down a Kurdish revolt, and he strongly supported the U.S. invasion of Iraq in 2003, writing that "nobody came out of this war more nobly" than the Kurds.
Safire also wrote four novels, several collections of columns and a political dictionary that was first published in 1968. A new edition came out in 2008.
He is survived by his wife, Helene, two children and one grandchild.
E-mail to a friend

All About The New York Times Company • William Safire • Richard Nixon