By Deirdre Walsh
CNN





WASHINGTON (CNN) -- House Democratic leaders are discussing adding a tax on insurers as a way to reduce the overall price tag of their health care bill.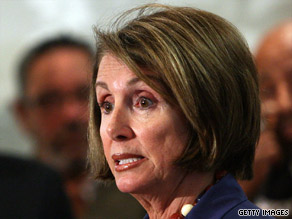 House Speaker Nancy Pelosi has said a public option is the best idea for health care reform.
House Speaker Nancy Pelosi said Friday that an excise tax on high-end insurance plans, similar to the one included in the Senate Finance Committee's health care overhaul legislation, was "under consideration."
But Pelosi added that leaders are looking at other proposals to offset the costs of the bill.
"We have to see how much money we need, and if we're taking the bill down in costs, there are other provisions in the Senate bill that bend the curve that might be more palatable. We'll see," she added.
House Democratic leaders and key committee chairmen met Friday to try to come up with a final version of the House health care bill. Much of the discussion centered on how to cut about $200 billion in costs from the measure.
The Congressional Budget Office estimated that the House bill costs $1.1 trillion over 10 years, but President Obama told Congress he wants a bill that costs $900 billion.
The House Democrats' health care plan includes a surtax on wealthy Americans. The graduated tax would apply to families making more than $350,000 a year, with the rate increasing as income levels go up. But a number of freshmen Democrats argued that the initial income level should be raised so the tax doesn't unfairly burden small businesses.
Leaders have now agreed to apply the surtax on those making more than $1 million a year. But losing some revenue from the surtax is forcing Democratic leaders to look for other sources of funding.
Democratic leadership aides say that if the House moves ahead with a tax on insurers, it would probably modify the Senate Finance Committee version, because many Democrats are worried the Senate plan would hit middle-class families.
E-mail to a friend

All About Health Care Policy • Nancy Pelosi • Health Insurance