By Ed Hornick
CNN






WASHINGTON (CNN) -- House Speaker Nancy Pelosi said Thursday House Democrats need further negotiations before bringing a final version of a health care bill to debate before the full chamber.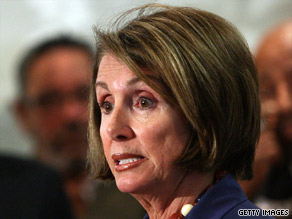 House Speaker Nancy Pelosi has said a public option is the best idea for health care reform.
At her weekly news conference, the California Democrat said she expects a final version soon that would have the support of the full Democratic caucus, which holds a majority in the House.
"We're on course to be ready soon" to put out a bill to the full House, she told reporters after meeting with the caucus.
Three House committees have passed their versions of a Democratic proposal, and Democratic leaders are now trying to merge the three into one proposal for floor debate.
The discussions are in large part to inform members about the decisions under consideration and the impact on the health care debate, Pelosi said.

Watch more on the health care debate »
She declared herself happy with the progress so far, and said she believes Democrats will have a "very unified caucus" when the legislation is presented to the full House.
All the House health care reform proposals include a government-funded public health insurance option unanimously opposed by Republicans.
Pelosi continued to support the provision, which is considered a deal-breaker in the Senate.
"One thing I know for sure at the end of the day, the public option is the strongest lever to get the best outcome for America's working families," Pelosi said.
She said House Democrats question the concept of a so-called "trigger" mechanism for a public option that was proposed as a compromise by Sen. Olympia Snowe, a moderate Republican from Maine.
"We are thinking and deciding about it, and the evidence seems to point ... that a trigger is an excuse for not doing anything," Pelosi said. "The attitude that came out of the caucus was against the trigger."

Watch as the Senate Finance Committee reviews legislation »
The trigger would require creation of a public option in the future if insurance companies fail to expand health coverage and reduce costs by a specific deadline.
Also Thursday, Rep. John Boehner, the House minority leader, criticized Democrats for continuing what he characterized as hurried efforts to force through their legislative proposals.
The American people "know that this majority, especially on major bills this year, haven't given lawmakers much of any time to actually read the bill," said Boehner, R-Ohio. "Each time this happens, the trust the American people have in their Congress is undermined."

Boehner noted he recently signed a bipartisan petition supporting a mandatory 72-hour public review period before bills are brought to the floor for a vote.
He urged Pelosi to also sign the petition and bring it up for a vote.
E-mail to a friend

All About Nancy Pelosi • John Boehner • Health Care Costs