UNITED NATIONS (CNN) -- Thousands of protesters descended on the area near the United Nations on Wednesday, shouting their condemnation of Iranian President Mahmoud Ahmadinejad on the day of his speech before the General Assembly.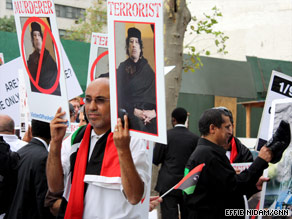 Libyan leader Moammar Gadhafi's U.N. appearance attracts demonstrators Wednesday in New York.
Other protesters gathered near the U.N. building to decry the presence of Libyan leader Moammar Gadhafi, who spoke earlier in the day.
More than 400 protesters marched in front of the Iranian Mission to the United Nations, chanting, "Hey, hey, ho, ho, Ahmadinejad has to to go."
They later joined thousands of others at Dag Hammarskjold Plaza, across the street from the United Nations complex, where they mixed up those chants with accusations that the June 12 Iran presidential election was a fraud.
They yelled: "63 percent, 63 percent, where is your 63 percent?"
Iranian election officials had reported that Ahmadinejad had won about 63 percent of the vote.
Some protesters expressed further animosity for the leader by carrying pictures of Ahmadinejad's face with a large red X stamped across it.
"Murderer at the United Nations" and "Free the political prisoners in Iran" read some of the banners.
Gadhafi spoke earlier Wednesday at the U.N. General Assembly's annual session, and Ahmadinejad was scheduled for later Wednesday evening.
"I am very angry," said Anna Amiri, an Iranian émigré who traveled from Dallas, Texas, to attend the rally, which was about seven blocks from the United Nations.
"We voted for Moussavi to have a change," she said, referring to Mir Hossein Moussavi, who lost Iran's disputed election.

Watch an Iranian student in the U.S. say she's a voice for protesters »
Amiri held a picture of Neda, a young woman whose killing at a political rally was captured on video and seen around the world.
She said Iranian government security forces attacked her sister at a recent rally in Tehran, forcing her to seek treatment at a hospital.
Others, including Libyan expatriates and relatives of victims of Pan Am Flight 103 -- which exploded over Lockerbie, Scotland, in December 1988 -- gathered near the United Nations to protest Gadhafi's appearance ahead of his speech.

Watch how protesters and supporters turn out for the Libyan leader »
Gadhafi stirred up anger recently when he permitted a large welcome for Abdelbeset Ali Mohmed al Megrahi, the Libyan convicted of the bombing of Pan Am Flight 103.
Al Megrahi was released by Scottish authorities on compassionate medical grounds, and the celebration of his homecoming infuriated some families of the Pan Am 103 victims.

Watch protesters at U.N. »
"When they released this prisoner, there was a worldwide outrage," said Frank Dugan, president of the Victims of Flight Pan Am 103.
"It put us on the front pages again. We were old news; we're a 20-year-old story; most people don't even know what Pan Am 103 was," he said.

"But now, everyone knows, they know what an outrage it was."
Near the protest against the Libyan leader, supporters of the Nation of Islam held an event welcoming Gadhafi.
E-mail to a friend

CNN's Allan Chernoff and Mary Snow contributed to this report.
All About Iran • Mahmoud Ahmadinejad • Moammar Gadhafi