By Ed Rollins
CNN Senior Political Contributor





Editor's note: Ed Rollins, a senior political contributor for CNN, is senior presidential fellow at the Kalikow Center for the Study of the American Presidency at Hofstra University. He was White House political director for President Reagan and chairman of the National Republican Congressional Committee.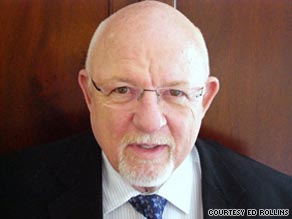 Ed Rollins says some missteps got President Obama's week in NY off to a clumsy start.
NEW YORK (CNN) -- On the international stage, this week is President Obama's most important since taking office.
He arrived in New York on Monday and by the time he finishes chairing the Global Conference of 20 (world leaders) in Pittsburgh, Pennsylvania, this weekend he will have earned his pay check (not that a president doesn't earn it every week).
Unfortunately, the president stepped on his international story over the weekend when news surfaced that the White House had informed New York's Gov. David Paterson not to run for re-election and signaled that the White House wants Attorney General Andrew Cuomo to replace him.
The embarrassment to one of the nation's two black governors, who wound up greeting the president at his arrival in Paterson's home state, after being jettisoned over the side, was painful to watch. The New York tabloids are hammering the president for his ineptitude and timing.
I wouldn't call this a lasting blow to the president, but he needs to quit the lecture about being above the fray and not being partisan. He also showed a somewhat tin ear by beginning the week appearing on David Letterman's show. He can do that anytime.
This is a serious week and the decision to go on Letterman's show suggests that the vaunted Obama message machine might be missing a few beats. Guys! Last week was health care. This week: "World leader!"
And that will be the question asked and answered at the end of the week.
Will President Obama emerge at the end of the week as a true world leader or just a personable young man who wants everyone to love him?
Don't Miss
The first impression many world leaders have of our new president is that he is willing to apologize for any previous, unpopular U.S. foreign policy position and he is willing to change positions pretty quickly. Just ask Poland, which was distressed by Obama's decision to shift the U.S. missile defense strategy last week.
This is U.N. week in New York City. To those of us who reside within the boundaries of Manhattan, this is the most dreaded week of the year. We start September with the U.S. Open Tennis Championships (we all love tennis) followed by fashion week -- a week for rich society matrons and a bunch of tall skinny models wearing hideous dresses and 10,000 part-time photographers trying to make them look glamorous.
Most of us really don't care about fashion. Just look at how we dress. But we all hate U.N. week! Oh we want world peace and clean environments and all that, but why can't they meet in Geneva or someplace else?
Gridlock, which is a frequent description of the condition of traffic in the Big Apple, goes to code red this week.
Representatives from all 192 U.N. Member States and most of the world's heads of state are in New York City for the opening of the 64th session of the United Nations General Assembly
If you are not a head of state with a motorcade, forget about it. Stay out of town or go underground to subway city. And every third-rate power in the world has a motorcade with cop cars, sirens and redlights and is made to feel important courtesy of the extremely efficient New York Police Department and the various government security forces that are ever present.
Parties, receptions, back room meetings and the like are going on everywhere and if you are not invited, don't get insulted, just know you are not important.
But this is also a week in which the big boys and girls of world politics work hard. Some real important stuff does happen this week. Most of it's not out in the open or in the public halls of the United Nations. It's in the private behind-the-scenes meetings that go on around the clock.
And that brings us back to the most important man in town this week, President Obama; the man every world leader is watching, measuring, and evaluating. And wants to meet. How do you go back home and tell your people how important you are if you can't get a meeting with the president while he's in town. Revolutions and coups were started over less.
Even though Obama is by far the most widely known world leader, and maybe one of the most liked, this is the week he must earn respect.
Every other leader will walk away with a lasting impression, favorable or unfavorable, of President Obama based on how he does over the next several days. This is not the week you get by on personality, but on leadership.
This is the week the president moves from "doctor-in-chief" trying to sell health care to a skeptical nation to "world-leader-in-chief" trying to sell to skeptical global leaders that the United States can be the leader in finding a solution to the world's economic, environmental, and security troubles and that we are not the problem.
The president gave two big environment speeches Tuesday, delivering opening remarks at U.N. Secretary General Ban Ki-moon's climate change summit in the morning and at former President Clinton's Global Initiative conference in the late afternoon.
In between he met separately with Israeli Prime Minister Netanyahu and Palestinian Authority President Abbas. After that, the three leaders met again for a photo op. No punches were reportedly thrown, which can be viewed as progress. As if that wasn't a full enough day, the president met one-on-one with Chinese President Hu Jintao.
The president gives his big welcoming speech Wednesday to the general assembly and then on to more private meetings with as many world leaders as he can fit in.
The president departs for Pittsburgh for the gang of 20 meeting latter in the week but we New Yorkers are still stuck for a few more days with the hangers on and leaders who don't want to go home. Some minor gridlock here but the big gridlock moves to Pittsburgh. Steelers fans are tough and I am sure they can handle it.
Meanwhile we New Yorkers will survive. I am sure our president will survive also. Hopefully after a week like this, his image as a world leader will be enhanced.
The opinions expressed in this commentary are solely those of Ed Rollins.
E-mail to a friend

All About Barack Obama • Ban Ki-moon • David Paterson