By Terry Frieden
CNN Justice Producer






WASHINGTON (CNN) -- Attorney General Eric Holder announced limits Wednesday on the use of the "state secrets" defense, which can block courts from considering cases in which government secrets could be released.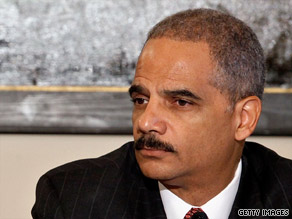 Eric Holder gave no indication the new rules would affect ongoing cases in which the privilege has been invoked.
The new standard would require the attorney general and a panel of government lawyers to approve such a claim "only when genuine and significant harm to national defense or foreign relations is at stake."
Currently, the Justice Department can ask a court to block consideration of a case by invoking the defense with a lower standard by asserting disclosures could harm national security.
In a four-page memo to all Executive Branch and intelligence agencies, Holder says the change will "provide greater accountability and reliability."
Holder said the Justice Department will not defend the use of the state secrets privilege in order to hide violations of law or government errors, or to protect against the embarrassment of government officials.
The American Civil Liberties Union said the change did not go far enough, and lumped the Obama administration with that of the Bush administration in its use of the state secrets privilege.
"On paper, this is a step forward. In court, however, the Obama administration continues to defend a broader view of state secrets put forward by the Bush administration and to demand that federal courts throw out lawsuits filed by victims of torture and illegal surveillance," said Ben Wizner, staff attorney with the ACLU National Security Project.
Don't Miss
The group urged Congress to pass laws to limit the White House's use of the state secrets privilege.
The policy change is the result of a lengthy review of current cases in which the Bush administration had invoked the state secrets privilege. However, Holder gave no indication the new rules would affect ongoing cases in which the privilege has been invoked.
The Obama administration has continued to back sensitive cases originally brought against the Bush administration in which citizens claimed they were illegally monitored.
The newly announced changes may not go far enough to satisfy staunch Democratic critics of the state secrets defense.
Rep. Jerrold Nadler, D-New York, said, "The reforms fall short of what is necessary." Nadler, who heads a key House subcommittee on civil liberties, said he believes legislation is still required.
Sen. Patrick Leahy, D-Vermont, who leads the Senate Judiciary Committee, said he remains "especially concerned" that the new policy does not require the government to provide substantial evidence to a judge when asserting the privilege.
The policy change announced Wednesday goes into effect October 1.
E-mail to a friend

All About Eric Holder • U.S. Department of Justice