(CNN) -- Iranian President Mahmoud Ahmadinejad said Wednesday that his country is committed to helping build a durable peace and security worldwide based on justice, spirituality and dignity.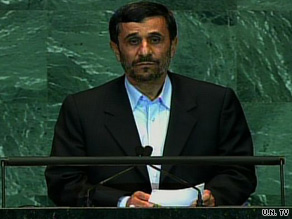 Iranian President Mahmoud Ahmadinejad addresses the 64th United Nations General Assembly Wednesday.
"Our nation is prepared to warmly shake all those hands which are honestly extended to us," he told the United Nations General Assembly. "We welcome real and human exchanges and stand ready to actively engage in fundamental global reforms."
He called for a "return to monotheism and justice," calling it "the greatest hope and opportunity in all ages and generations."
Without such a belief, injustice and discrimination will not be corrected, he said.
Ahmadinejad, wearing a dark suit and an open-necked shirt, took aim at unbridled capitalism for bringing about the conditions that have led to the world economic crisis.
"It is no longer possible to inject thousands of billions of dollars of unreal wealth into the world economy simply by printing worthless paper," he said.
"The engine of unbridled capitalism, with its unfair system of thought, has reached the end of the road and is unable to move."

Watch delegates walk out during speech »
Without citing any countries, he said, "The time has come for an end to those who define democracy and freedom and set standards while they themselves are the first who violate its fundamental principles. They can no longer be the judge and executioner."
He added that the time has passed for those people who outwardly espouse democracy and freedom yet who are simultaneously "violating the very principles to which they aspire."
Ahmadinejad then cited the United States, which has criticized his country's nuclear program, despite Iran's insistence that it is intended for peaceful purposes only.
"Most people, including the people of the United States, are waiting for real and profound changes," Ahmadinejad said in an apparent allusion to President Obama's campaign slogan calling for change.
He then called for changes in the situation in the Palestinian territories.

Watch Ahmadinejad address Palestinian situation »
"How can the crimes of the occupiers against defenseless women and children and destruction of their homes, farms, hospitals and schools be supported unconditionally by certain governments and at the same time the oppressed men and women be subjected to the heaviest economic blockade, which denies their basic needs: food, water and medicine, and leads to genocide?"
He was also critical of the situations in Iraq and Afghanistan, where "thousands of innocent people have been killed, injured or displaced, infrastructures have been destroyed and regional security has been seriously jeopardized."

Watch protest against Iranian president »
Then, in another apparent reference to the United States, he said, "How can you speak of friendship and solidarity with other nations while you expand your military bases in other parts of the world, including in Latin America?

"This situation cannot continue."
As did other leaders during the daylong talks, Ahmadinejad called for changes in the structure of the United Nations, saying it is "dominated by a few government who seek to serve their own interests."

E-mail to a friend

All About United Nations • Mahmoud Ahmadinejad • Nuclear Proliferation