By Miranda Leitsinger
CNN





HONG KONG, China (CNN) -- Former U.S. Republican vice presidential candidate Sarah Palin will be in Hong Kong this week to address about 1,000 investors from around the globe in what is billed as her first speech outside North America.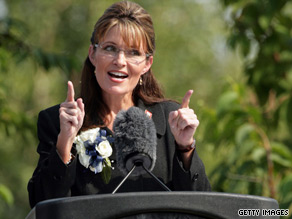 Sarah Palin is expected to speak on governance and economics in Hong Kong.
Palin, who recently stepped down as Alaska's governor, will make the keynote speech on Wednesday to the 16th CLSA Investors' Forum. She will cover governance, economics and current events in the United States and Asia, said Simone Wheeler, head of communications for CLSA.
"What we look to do is invite our keynote speakers who we feel are opinion makers, who are newsworthy and who we feel our clients -- a very broad international client base -- would be interested in hearing from," Wheeler said Monday, noting that CLSA is a politically neutral, independent brokerage.
"We certainly believe that Sarah Palin will be -- she has been in the news -- we believe that she will continue to be a newsmaker in the future and therefore someone we feel that is definitely of interest to fund managers."

What does Hong Kong think of Sarah Palin? »
Past keynote speakers include former U.S. President Bill Clinton, former Vice President Al Gore, rocker and activist Bob Geldof, South African Archbishop Desmond Tutu and former U.S. Federal Reserve chief Alan Greenspan, Wheeler added. Would you pay to see Sarah Palin give speech? Soundoff below
The selection of Palin has received a lot of support, but there also are critics, Wheeler said.
"She is a controversial figure, so she attracts polarizing opinions. And we have received feedback from people that question our decision. But I would have to frame that by saying most of that feedback has come from people in the U.S. who are not our clients."
Don't Miss
CLSA decided to close the session to reporters, Wheeler said. She also said CLSA does not disclose whether or how much it pays speakers.
Wheeler said Palin would be in Hong Kong only for the speech, adding that it was a short trip.
Palin's political ambitions are unclear, though she has recently attacked U.S. President Barack Obama's health care initiative. During the 2008 presidential campaign, she was lampooned by critics and comedians for suggesting that she had foreign policy experience because she was then governor of Alaska and "you can actually see Russia" from part of the state.
Chinese-language media did not give much coverage to her appearance, and some local residents and visitors were surprised to learn she was in town.
Olivia Chung, a 29-year-old woman who works in a shop that sells dried seafood, said she did not know Palin was in Hong Kong.
"I think most most people know who she is," she said. "I don't think she will have some advice for Hong Kong people ... I think they (people) don't care what she will talk about."

But retired investor, Pauline Rooney of Adelaide, Australia, said she knew Palin would be in Hong Kong while Rooney was vacationing here.
"I thought, 'wow, we might able to see or hear her,' to see if she has got any better sense from her experience," she said, later adding. "I don't know what platform she would be coming from that would have any relevance to anyone in investing."
E-mail to a friend

All About Sarah Palin • Politics • Hong Kong