By Ed Hornick
CNN






WASHINGTON (CNN) -- President Obama, facing daunting domestic challenges, may have another tough battle on his hands: maintaining the United States' growing popularity throughout the world.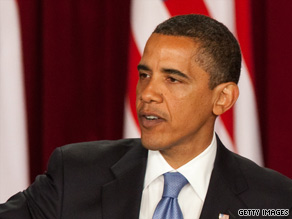 President Obama delivered a speech to the Muslim world this summer in Egypt.
And the spotlight will focus on global issues this week.
On Tuesday, Obama meets with the Israeli and Palestinian leaders separately and then jointly. He will also meet late that day with Chinese President Hu Jintao and speak to the Clinton Global Initiative meeting.
The president meets Wednesday with Japan's new prime minister and addresses the U.N. General Assembly. Later, he will meet with Russian President Dmitry Medvedev -- their first face to face meeting since Obama's decision to scale back U.S. missile defense plans in the Czech Republic.
Later Friday, Obama will take part in two G-20 meetings in Pittsburgh, Pennsylvania, focused on the global economy.

Watch more on Obama's busy week ahead »
Coming up with a plan to deal with the worldwide recession, experts have said, will be a key challenge for Obama.
"When it comes to the global economic crisis, publics around the world tend to see the U.S. as having a negative impact on their own economies right now," said Richard Wike, associate director for the Pew Global Attitudes Project.
His organization recently completed a survey on Obama's image abroad. It found significant support for the president still throughout Africa, Europe and Latin America -- places that he and other top U.S. officials have visited.
The survey, taken in late summer, found that the United States' image has improved "markedly in most parts of the world, reflecting global confidence in Barack Obama."
"In many countries opinions of the United States are now about as positive as they were at the beginning of the decade before George W. Bush took office," the report found.
But Wike notes that Obama's popularity doesn't always mean support for his foreign policy decisions.
"So he has a tremendous amount of personal popularity in France, Germany and in several other countries. That doesn't always translate into agreement with his policy positions," he said.
Don't Miss
Wike said expectations for Obama are high on issues like climate change.
And one of the stickier areas facing Obama is the Middle East -- where concerns include Iran's nuclear capabilities, the U.S. presence in Iraq, and settlement issues between Palestinians and Israelis.
Foreign Policy magazine's Steven Rosen said that Obama's diplomatic offensive in the region could face serious challenges going forward.
Rosen, who has served for 23 years as foreign policy director of the American Israel Public Affairs Committee, said September 19 in the magazine that Obama's Mideast moment is coming.
"Now the world waits to see what kind of U.S. president he wants to be," Rosen wrote. "The White House is facing tough prospects. ... All that fantastical thinking about the transformative power of diplomacy is now headed straight for the iceberg that is the Middle East."
Since Obama took office, attitudes toward the United States have improved in some mainly Muslim countries that held extremely negative views when George W. Bush was president.
Over the summer, Obama gave a major speech to the Muslim world in Egypt that many hailed as a significant moment in repairing the United States' image.
In Israel, the survey found attitudes toward the United States are slightly less positive than during the previous administration, but about 70 percent of Israelis still view the U.S. favorably.
Rosen noted that that far from achieving transformative success, Obama "will be lucky if he can just keep negotiations alive for more than a few weeks."
Another area of concern for Obama is Afghanistan. Critics have questioned whether he's deploying enough troops, or whether his strategy can contain rising violence and a resurgent Taliban.
Recently, the top U.S. commander in Afghanistan, Gen. Stanley McChrystal, warned that more troops are needed there within the next year or the nearly 8-year-old war "will likely result in failure," according to a copy of a 66-page document obtained by The Washington Post.
Bob Woodward, who wrote the Post's article, called it "a striking thing for a general to say to the secretary of defense and the commander-in-chief."
McChrystal "really takes his finger and puts it in their eye -- 'Deliver or this won't work,' " Woodward told CNN's "American Morning" on Monday. "He says if they don't endorse this full counterinsurgency strategy, don't even give me the troops, because it won't work."

Obama has been considering the assessment of troop levels completed by McChrystal over the summer. However, a review of U.S. strategy in Afghanistan won't be driven "by the politics of the moment," Obama said Sunday.

Watch a top Democratic senator discuss Afghanistan »
But the Afghanistan issue, coupled with the international economic situations, might hurt the president's image abroad in the future.
E-mail to a friend

CNN chief national correspondent John King contributed to this report.
All About Barack Obama • Middle East • World Economy