By Rebecca Sinderbrand
CNN Political Producer





WASHINGTON (CNN) -- A day after former Baptist minister and likely presidential rival Mike Huckabee offered a withering critique of Mitt Romney's record, the former Massachusetts governor made his pitch to the same group of religious conservatives.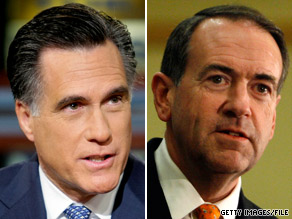 As Mitt Romney, left, defended his health care record Saturday, Mike Huckabee won a vote.
Romney appealed to attendees at the Values Voter Summit in Washington on Saturday, using a speech that drew heavily from his address to social conservatives at the same hotel earlier this year. "Putting such a spirit-crushing, back-breaking debt burden on our children is unworthy of our national character," he said.
"That is why I believe that this spending and borrowing is not just economically irresponsible, it is morally wrong."
The former Republican presidential candidate, widely considered a likely 2012 contender, was on the ballot for the gathering's 2012 presidential straw poll, along with Huckabee, former House Speaker Newt Gingrich, Louisiana Gov. Bobby Jindal, former Alaska Gov. Sarah Palin, Texas Rep. Ron Paul, Minnesota Gov. Tim Pawlenty, Indiana Rep. Mike Pence and former Pennsylvania Sen. Rick Santorum.
Huckabee won the straw poll Saturday, grabbing nearly 29 percent of the vote. Romney, Pawlenty, Palin and Pence each won roughly 12 percent of the 597 votes cast.
Just four of the eight prospective GOP standard-bearers spoke at the three-day conference: Romney, Pence, Huckabee, and Pawlenty. Texas Gov. Rick Perry, who will speak later Saturday, earlier asked that his name be removed from the straw poll ballot.
Despite the makeup of the crowd, Romney's speech was relatively light on social issues, focusing instead on economic and security policy.

Watch what Romney has to say at the summit »
He blasted the Obama administration's financial track record and its decision to consider prosecuting intelligence agents who violated government protocols on the interrogation of prisoners. "[President Obama] can spin a speech, but he can't spin his record," said Romney. "And I'll bet you never dreamed you'd look back at Jimmy Carter as the good old days."
Romney has eked out several victories in similar recent measures of conservative presidential preference, including the Conservative Political Action Conference straw poll earlier this year, and the last Values Voter Summit contest, held two years ago. He narrowly defeated Huckabee that year in voting that was allowed over the Web. This year's vote is limited to conference attendees.

Watch the House GOP leader talk about health care and the summit »
Romney, a Mormon who battled Huckabee for evangelical support during the 2008 Republican primary season, drew a polite, though not overwhelming, response from activists Saturday. He continued to make a bid for social conservative support, taking aim at Obama's address to the nation's schoolchildren earlier this month: He backed the president's decision to speak to students, but slammed him for failing to focus on the challenges of single parenthood and out-of-wedlock births.
Romney's efforts to reform health care in Massachusetts have come under fire from Huckabee, a former Arkansas governor.
"In fact, the only thing inexpensive about Massachusetts' health care bill is that there, you can get a $50 abortion," Huckabee said, drawing instant pushback from the Romney camp.
On Saturday, the former Massachusetts governor continued the defense of the health care overhaul launched during his tenure and criticized Obama's health care plan.
"This Republican worked to reform health care in my own state," he said. "Not every feature of our plan is perfect, but the lesson it teaches is this: You can get everyone insured, without breaking the bank and without a government option. There is no government option in my Massachusetts reform. The right answer for health care is not more government, it is less government."
Romney's criticism of the president's health care plan drew a muffled shout of "He lied!" from a man in the audience, followed by a round of laughter and applause from the crowd.
The Democratic National Committee, which blasted Pawlenty after his conference speech Friday, also slammed Romney's remarks Saturday.
"If Mitt Romney thinks pandering to the far right is a winning strategy, that's his choice," Democratic National Committee spokesman Hari Sevugan said.

"Of course, it didn't work out so well for him last time. Maybe that's because, given how often he changes his position on issues, he has no credibility with the right. And given how often he's misrepresenting the truth, he doesn't have much credibility with anyone else, either."
Conference breakout panels Saturday afternoon are scheduled to include Global Warming Hysteria: The New Face of the "Pro-Death Agenda"; Obamacare: Rationing Your Life Away; Activism and Conservatism: Fit to a (Tea) Party; and Thugocracy: Fighting the Vast Left-Wing Conspiracy. The summit's straw poll results -- an early look at the state of the 2012 race -- are scheduled for release mid-afternoon.
E-mail to a friend

All About Mike Huckabee • Mitt Romney • Health Care Policy