(CNN) -- An integrated U.S. approach to Afghanistan is needed before President Obama decides whether to send more troops there, lawmakers and others said Thursday at a Senate Foreign Relations Committee hearing.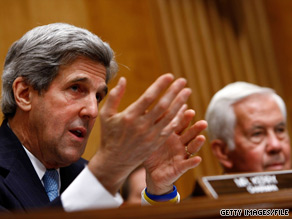 Sens. John Kerry, left, and Richard Lugar took part in a Senate Foreign Relations Committee hearing Thursday.
"The president is the ... one who will make the final choices from the options he has presented. It is widely hoped that he will produce a coherent operational strategy for the United States' engagement in Afghanistan," said Sen. Richard Lugar, R-Indiana.
"Such an integrated strategy has yet to be unveiled, despite the many high- and low-level reviews. And none has been described by the president with the force and conviction necessary to persuade the American people to endorse what will likely be a much longer, albeit necessary, commitment to achieve stability in the region," Lugar added.
Adm. Michael Mullen, chairman of the Joint Chiefs of Staff, told senators this week that he wants a "fully resourced counterinsurgency" in Afghanistan, which probably means more troops.
Obama is considering a report from Gen. Stanley McChrystal, the top U.S. commander in Afghanistan, to help guide his decision on troop levels.
Afghan President Hamid Karzai, on CNN's "The Situation Room" on Thursday afternoon, expressed support for a changed approach.
"I hope the United States would endorse Gen. McChrystal's plan for a strategy that focuses on the protection of civilians, that is more cautious about the conduct of operations and that also enhances its support and buildup of the Afghan national security forces," he said.
Karzai told program host Wolf Blitzer that he hopes the Afghan army and national police grow in number to 400,000 in two to three years. He also said that developing and cultivating trust among regional governments is as important as military force.
"We have to basically start from a platform where we're not only having a direction that we know leads us to success, but also where we have the support and trust from the countries in the region and the powers in the world," he said.
Those who spoke before the Senate committee Thursday discussed the problems of opium production, the need for basic services for civilians, problems with contractors and other topics they feel need to be addressed, in addition to the military aspect.
Thursday's hearing was the second in a series of committee meetings titled "Countering the Threat of Failure in Afghanistan."
Committee Chairman John Kerry, D-Massachusetts, said Wednesday's speakers had made compelling arguments on how the United States should proceed.
"The prescriptions ranged from dramatically reducing the footprint to expanding our commitment of troops and money to a level that would basically constitute pretty significant nation building," he said at the start of Thursday's hearing.
Clare Lockhart, co-founder of the Institute of State Effectiveness, testified that the establishment of Afghan sovereignty, or strong self-rule, is critical to military success in Afghanistan.
The Taliban, she said, derive their strength primarily from the weakness of Afghan institutions. If the United States and its allies help shore up the government, Afghans would tend not to see the U.S. forces as an occupation, she said.
"I believe we now need a similar articulation of a strategy for governance and development that matches the one the military's put forward in rigor and detail," she added.
"I think we have grounds for optimism. I question the myth of Afghanistan as an inherently corrupt culture full of warlords. There is an Afghan demand for rule of law rooted in their culture."
On the other side of the Capitol, meanwhile, the top Republican in the House of Representatives called on the Obama administration to send McChrystal to testify publicly on Capitol Hill.
"I think it's imperative that the American people and members of Congress hear directly from Gen. McChrystal about the situation on the ground, and we need to hear from him soon," said Rep. John Boehner, R-Ohio, the House minority leader. Boehner said the United States "clearly" lacks the troops needed to win in Afghanistan, "and as a result, we've put our soldiers who are there in even greater danger."
Boehner said he hasn't been briefed on McChrystal's report, adding, "No one here has any clue how many more troops are necessary." But he said McChrystal should come before Congress in a forum similar to the one held by Gen. David Petraeus in 2007 to defend the Bush administration's troop buildup in Iraq.
House Armed Services Committee Chairman Ike Skelton, D-Missouri, also has requested that McChrystal appear before Congress, but it was not clear whether his request involved a public forum similar to the 2007 Petraeus hearings.
E-mail to a friend

CNN's Deirdre Walsh contributed to this report.
All About Afghanistan • U.S. Senate Committee on Foreign Relations • The Taliban